by Donielle Roman
History of Black Canadians at the Olympic games
John "Army" Howard was the first Black Canadian to participate in the Olympics in the 1912 Stockholm Games. Although historic, this was extremely controversial due to racism that marred the media coverage at the time. Howard was not allowed to stay in the same hotels as his white counterparts. Howard was unable to participate to his best in his events due to an illness. Howard's grandson, Harry Jerome would go on to follow in his footsteps, becoming an Olympian in 1960. Howard has paved the way for black athletes to leave their footprints and continue making history at the Olympic Games.
*****************************************************************
Andre De Grasse – Sprinter – I00m Bronze, 200m Gold, 4x100m Bronze
The path to gold and silver Olympian medalist was not a straightforward one for Andre De Grasse. Born in Markham, Ontario in 1994 to former sprinter parents De Grasse meddled in numerous sports before finding his niche in track and field.
De Grasse started off playing basketball with his High School Milliken Mills High School, this was a sport in which he enjoyed and excelled. However, in De Grasse's final year the basketball program was cut. This led De Grasse on a path of drug use, low performance in school and hanging out with the wrong crowd.
It was on a whim that Andre joined a friend for a regional high school track and field meet at York University. With no training, form or understanding of the sport, he finished second in the 100m dash with an impressive 10.91 time. This caught the attention of a former Olympian Tony Sharpe, who then invited De Grasse to join his track club in Pickering, Ontario – The Speed Academy. Sharpe later reported that "In terms of pure talent, I've seen nothing like Andre De Grasse."
After graduating high school, Andre attended Coffeyville Community College in Coffeyville, Kansas. During his 2 years, he won five National Junior College Athletic Association which included the 200m and 100m dash. De Grasse then attended colleges all over the United States before settling down at the University of Southern California in 2014. During this time, he would produce a remarkable repertoire of medals and record times for his events.
In December 2015 Andre became a professional sprinter, he signed an 11.5 million contract with Puma and moved to Phoenix Arizona training at the ALTIS training centre. Andre expressed that he had found his passion in Athletics.
De Grasse successes continued to flourish. In the 2016 Summer Olympic Games he took home 3 medals; silver in the 200m, bronze in the 100m bronze in the 4x100m relay, making him the first Canadian athlete to take home three Athletic medals in a single Olympic game.
De Grasse experienced some hiccups due to several hamstring injuries resulting in him having to withdraw from several races. In 2018, De Grasse has stated that he wanted to take some time away from the Sport so that he could focus on his fitness and be in a good place to represent Canada.
De Grasse was in fine form at the 2020 Tokyo Olympics where he took home gold in the men's 200m, bronze in the 100m and bronze in the men's 4×100
De Grasse is married to fellow Olympian Nia Ali, an American hurdler who took home the silver in 100m hurdles in the 2016 Summer Olympics. They have two children.
In 2018 De Grasse launched the Andre De Grasse Family Foundation, a charitable organization aimed at empowering youth through sport and education.
********************************************************************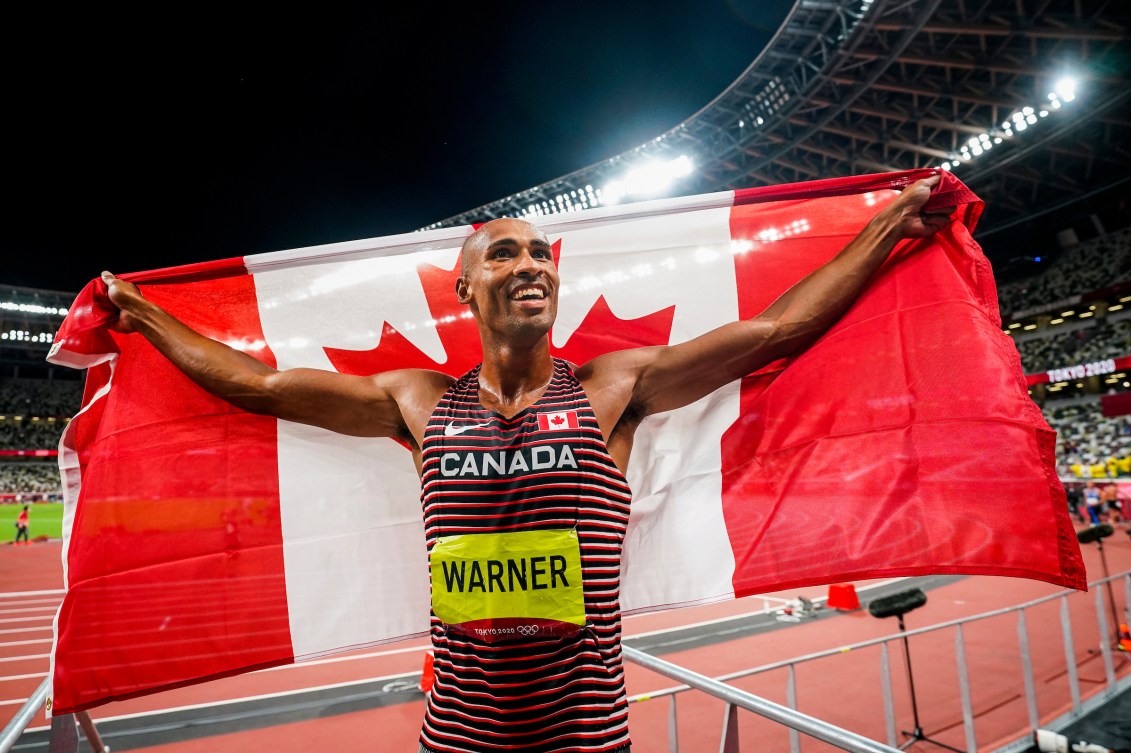 Damian Warner – Decathlon – gold
Damian Warner has been pegged "the greatest athlete you have never heard of" by Sportsnet Magazine. Coined as one of the most difficult challenges in all sport, the decathlon includes 10 track and field events completed over two consecutive days. This includes the 100m dash; long jump; shot put; high jump; 400m dash; 110m hurdles; discus; pole vault; javelin; 1500m run. Warner has spent the last 11 years perfecting this art which paid off at the 2020 Olympics earning him a Gold medal.
Warner did not start training for the decathlon until he was 20 years old and had only started participating in organized sports 5 years before that.
Warner was born in London, Ontario in 1989. He attended Montcalm Secondary School. He first dabbled in sports in grade 10 when he was introduced to basketball and football. Warner has a natural talent for sports and at the age of 20 be decided to participate in his first decathlon winning silver in 2010. Warner continued to improve on his skills and performance. After several wins in Canadian championships, he was selected to represent Canada in the 2011 Summer Olympics where he placed fifth.
Warner continued performing and perfecting his art winning multiple medals at the Commonwealth, World Championships and Pan Am games. These great feats led him to the 2020 Tokyo Olympics where Warner placed first, winning a gold medal and earning a new Olympic record for the event. To celebrate his achievement Warner was named Canada's flagbearer for the closing ceremonies. Warner shares a son with his partner, Jennifer Cotten.
*************************************************************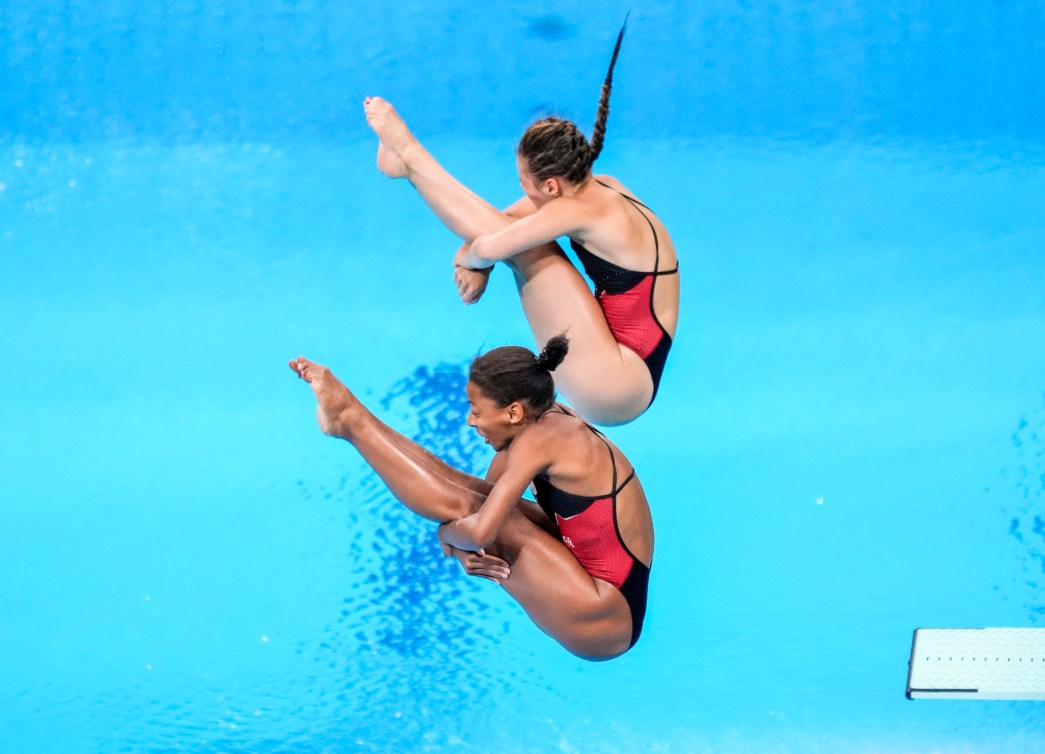 Jennifer Abel –Diving Women's 3m Synchronized Springboard – Silver
Jennifer Abel was born in Laval, Quebec in 1991. She is of Haitian descent. Abel became known as the youngest diver to participate in an Olympic game when she did so at the age of 16 in London. She is also known as the most decorated female diver in Canadian history with eight world medals.
Abel started dabbling in sports at the young age of 4, however, she was not yet sure what her interest was. It was not until her mother introduced her to diving that Abel found her passion. Abel attended the Sports -Etude program where she practices Monday to Friday from 1-3 and 4-6.
At the age of 14, Abel earned a bronze medal at the FINA World Championships, 2 years later she was competing in Beijing as the youngest Canadian diver. As a synchronized diver Abel has had numerous partners, she is now paired with fellow Olympian Melissa Citrini-Beaulieu.
Numerous wins propelled Abel's career and resulted in her representing Canada in the Olympics
Abel is a 4-time Olympian having participated in 2008, 2012, 2016, 2020
Abel attributes her success to her mother who made it possible for her to participate in the sport and who also made many sacrifices for her and her family. Abel states "She was also always there to remind me about my values and the reasons why I started diving in the first place every time I was going through a rough patch. She has always believed in me, she kept telling everyone for years and years that her little girl would go to the Olympics… look at me now!
Abel uses her platform to empower young women and encourage youth to "have no fear".
*****************************************************************
Mohammed Ahmed – Long Distance Runner – 5000m – Silver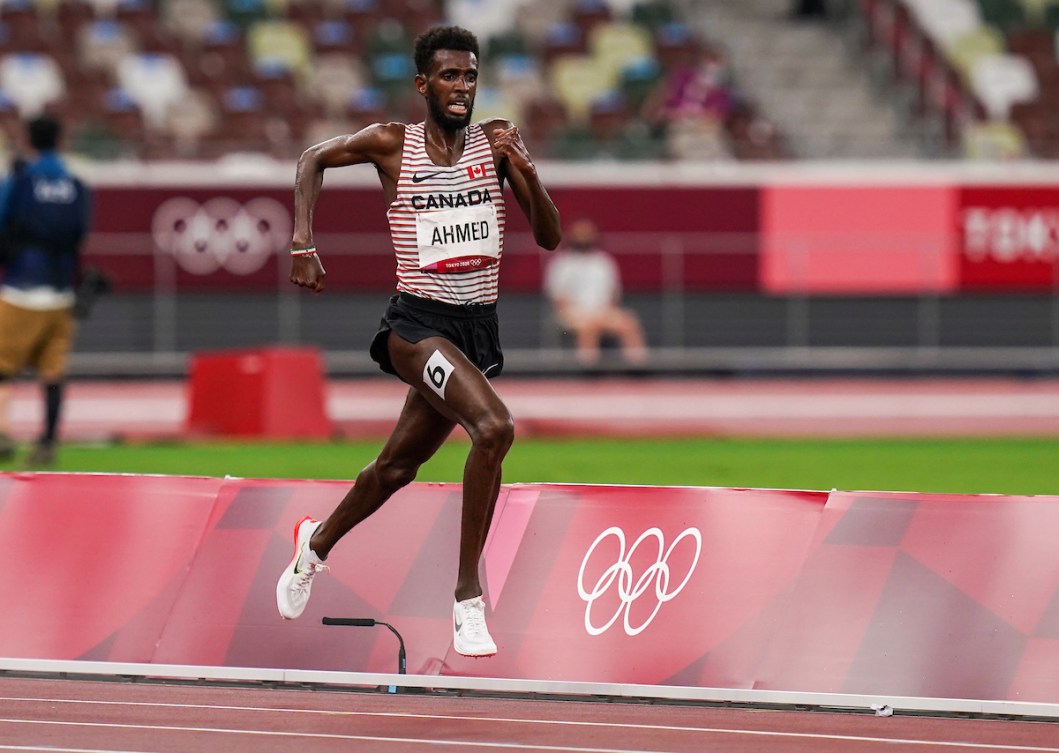 Born in Mogadishu, Somalia in 1991, Mohammed is known as Canada's most successful athlete in long-distance racing. Ahmed and his family migrated to St. Catherine, Ontario when he was 11 years old. As a younger sibling, Ahmed watched his brothers participate in track and field and this piqued his interest to follow in their footsteps. Ahmed expresses that adaptability is what has made him successful as an athlete. This included adapting to a new country, surroundings and community.
Ahmed made his Olympic debut in the 2012 London games where he finished 18th in the 10 000m. He increasingly got better, placing 9th in the 2013 IAAF World Championships. This was also the best time by a Canadian in the 10 00m.
During his 16-year career, Ahmed has broken several Canadian records in long-distance running. In 2018 at the Commonwealth Games Ahmed won silver in both the 5000m and 10 000, races.
*******************************************************************
Aaron Brown, Andre De Grasse, Jerome Blake, Brendon Rodney – 4x100m relay – Bronze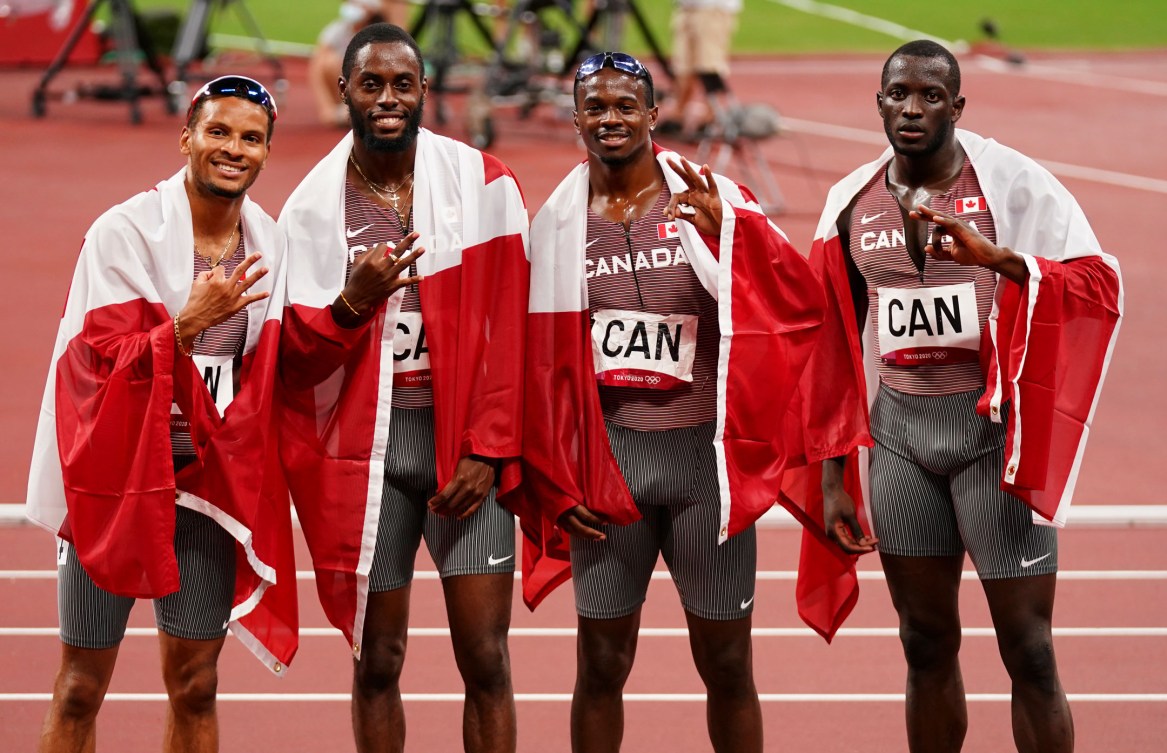 Aaron Brown was born in Toronto, Ontario in 1992. He started running track and field at the age of 16, his dream was to compete for Team Canada after watching the 2008 Beijing Games.
Brown also participated in the 2016 Rio Games a part of the 4x100m relay team, making his appearance in Tokyo his second Olympic appearance.
During this path to the Olympics, Brown earned several accolades in his events; 100m, 200m and 4x100m relay.
"I run for Canada, I run for my fans but most importantly, I run for my family" – Aaron Brown
Jerome Blake was born in Jamaica in 1995. His family migrated to Burnaby, British Columbia in 2013. In Jamaica, Blake started his career in the 400m hurdles. He was convinced to switch to sprinting by a coach that noticed his speed and versatility. Upon moving to Canada Blake continued with his passion for track and field. Blake expressed that he dreamed of competing for Canada after listening to Donavan Bailey talk about his accomplishments in the 2006 Atlanta Games, Donavan Bailey is also of Jamaican descent.
In 2017 he earned gold in the 100m and 200m at the 2017 Summer Games.
Blake made his Olympic debut in the 2020 Tokyo games.
Brendon Rodney was born in Etobicoke, Ontario in 1992. Rodney states that he has always wanted to be a professional athlete. He started running track because he was "fast".
Rodney is a two-time Olympic medalist in the 4x100m relay. Rodney has earned several medals in the Canadian Championships, Pan Am Games and World Championships.
Rodney holds a Masters in Health Sciences and aspires to become a physiotherapist when finishing his track career.
The journey to the Olympics is one of skill, perseverance, discipline and motivation. This is the ultimate achievement for many athletes but only a few will ever achieve this dream. There is also an ugly truth that Black athletes are often faced with racism in comparison to their counterparts. Black athletes are cheered when they perform well and racialized when they do not. With the weight of unrooted systematic racism, our Black Olympians travelled in the midst of a worldwide pandemic and represented their country with the utmost respect and pride. Congratulations to all of our Black Olympians .
***************************************************************
Women's soccer team – Gold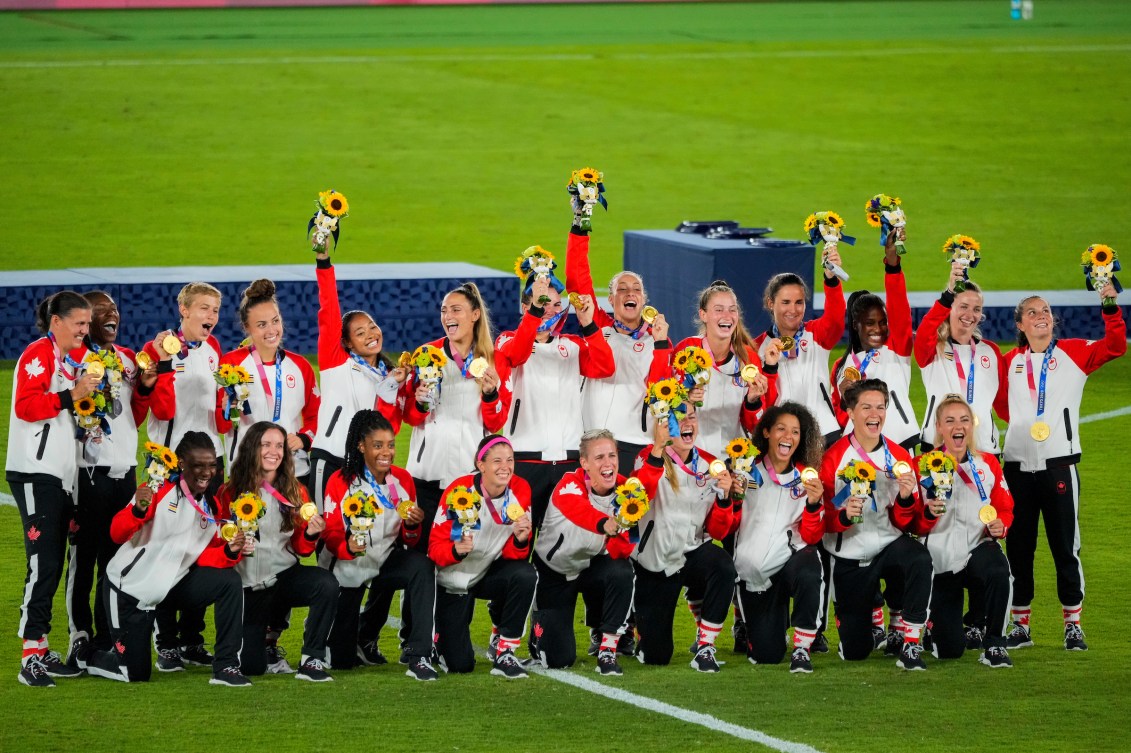 Kadeisha Buchanan (born November 5, 1995), nicknamed Keisha, is a Canadian soccer player for the Olympique Lyonnais in France's Division 1 Féminine. She is also a member of the Canada women's national soccer team. Born in Toronto and raised in Brampton, Ontario, she is the youngest of seven girls in a single-parent home and was only 17 when she made her debut for the national team on January 12, 2013.[2]
Buchanan is a three-time Canadian Player of the Year, winning the award in 2015, 2017, and 2020.[3] At the 2015 Women's World Cup, she won the FIFA Young Player Award.[4]
Deanne Cynthia Rose (born March 3, 1999) is a Canadian soccer player who plays for the Canada women's national soccer team.[3] In August 2016, she helped Canada win their second Olympic bronze medal after scoring the game-opening goal during the third-place match against Brazil.[4] In August 2021, she helped Canada win the gold medal at the Tokyo Olympics.
Born in New Tecumseth, Ontario to Jamaican parents, Rose began playing soccer at the age of four.[2] Raised in Alliston, Rose attended Ernest Cumberland Elementary School in Alliston, Ontario,[5] and later Saint Thomas Aquinas Catholic Secondary School in Tottenham, Ontario. She played club soccer for Scarborough GS United. In 2015, she was one of six players to be nominated for the BMO Canadian Player of the Year (Canada Soccer Women's U-17 Program).[6]
Ashley Eliabeth Marie Lawrence (born June 11, 1995) is a Canadian soccer player who plays for Paris Saint-Germain in Division 1 Féminine. She is a member of the Canadian national team.
Desiree Rose Marie Scott (born 31 July 1987) is a Canadian soccer player who currently plays as a midfielder for Kansas City in the National Women's Soccer League (NWSL). Nicknamed "the destroyer",[2] she is also a member of the Canadian national team, and won gold at the 2020 Olympics in Tokyo, which was her third Olympic medal following bronze medals in 2012 in London and in 2016 in Rio. Scott was born and raised in Winnipeg, Manitoba. Her father was born in Kingston, Jamaica, while her mother was also born in Winnipeg. She grew up participating in soccer, volleyball, track and field, and basketball.[3] She began playing soccer at the age of eight.
Nichelle Patrice Prince (born February 19, 1995) is a Canadian soccer player who currently plays for the Houston Dash of the National Women's Soccer League and the Canadian national team.[1] Prince was a member of the team that won a silver medal at the 2012 CONCACAF Under-17 Championship in Guatemala and a silver medal at the 2016 CONCACAF Women's Olympic Qualifying Championship. She and her team won an Olympic bronze medal at the 2016 Summer Olympics in Rio de Janeiro.[1] On May 25, 2019, she was named to the roster for the 2019 FIFA Women's World Cup.[5] On August 6, 2021, she won the Olympic Gold Medal in the 2020 Summer Olympics with Canada.[6]
Source: Wikipedia
Donnielle Roman has over 10 years experience in management and over 15 years working with children and youth facing multiple barriers and adversity. As the Manager of Youth Serices, she works with her team to provide safe and inclusive programming to newcomer youth in their settlement journey. Donnielle utilizes positive energy and sense of humor to create and nurture holistic relationships with the youth she supports. She believes in a strengths-based approach, believing in a youth's ability to drive and determine their own future. She has also volunteered as a Mentor and Coach. Outside her of professional life, Donnielle is an avid reader, writer and seeker of peace and happiness.