Treena MacSween is Hamilton Police Service's first Black female Superintendent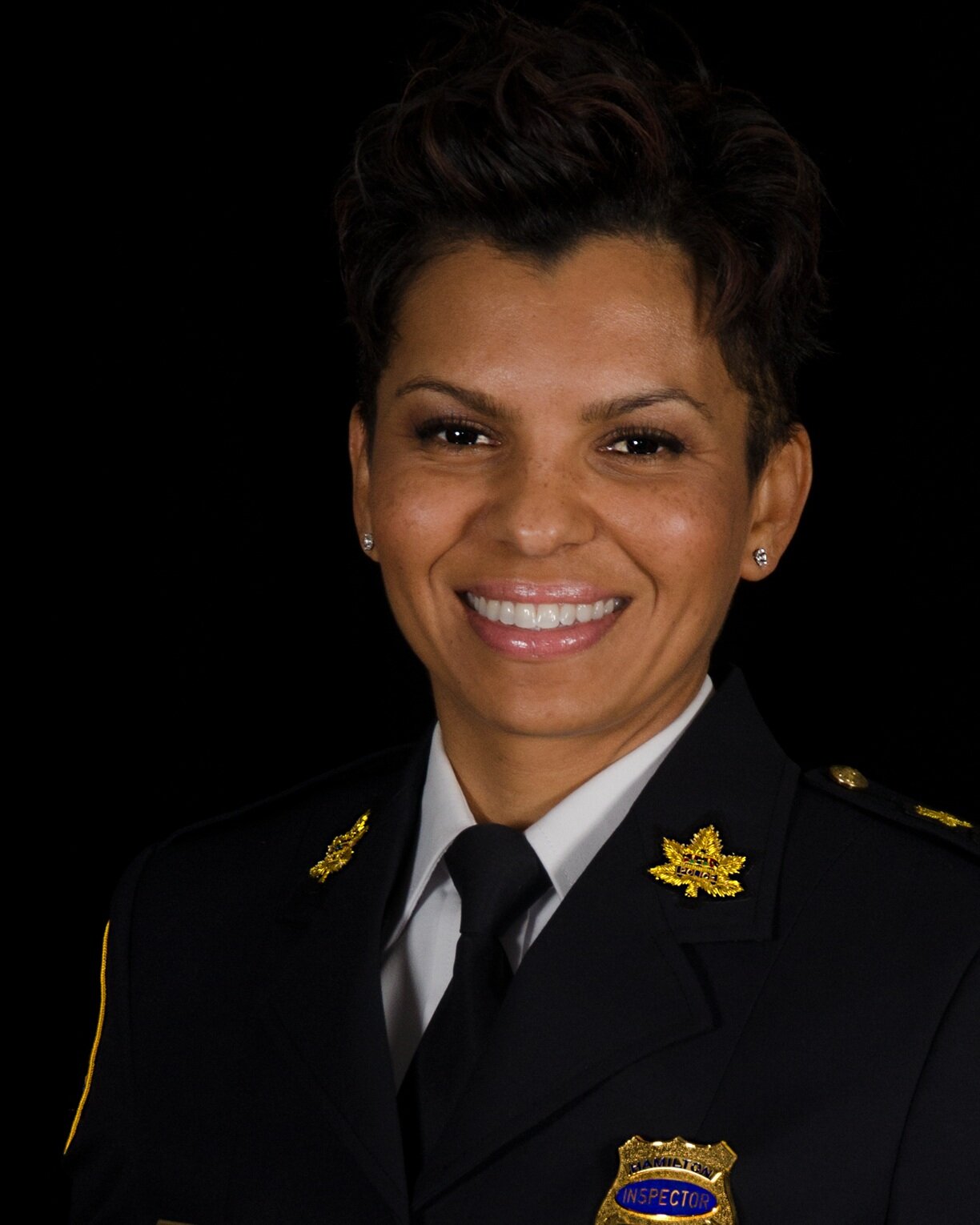 July 8, 2021
As the winner of an essay detailing what she would do to make a difference in her community if she was the top police officer, high school student Tennille Dorrington was Chief for a Day in 1993.
Later in the afternoon, twin sister Treena MacSweeen and their parents – Burchell Constantine (Con) and Violet Foster — attended Hamilton Police Service's (HPS) Central Station for a formal ceremony in which Dorrington proudly read her essay.
Christine Silverberg, Mississauga's first female police recruit before the creation of Peel region in 1974, was Deputy Chief at the time.
"Back then, females made up about 10 per cent of the Service, so to see one was far and between," recalled MacSween who was in Grade 11 at Barton Secondary School. "When I walked in and saw this woman wearing all of these gold stars, I didn't know what they meant. What I knew was that she was a big deal. She came over, introduced herself and talked about being a mother and how she served with Peel Police."
Inspired by that brief conversation, the teenager left the station that day with a clear idea of the professional career she was going to pursue.
"I walked in thinking I was going be a teacher one day and walked out knowing that I wanted to be a police officer," MacSween noted.
Twenty-three years after starting a policing career in Peel, she has made history as HPS's first Black female Superintendent.
The appointment becomes effective on August 31.
A few days after the groundbreaking promotion, MacSween and Silverberg – who went on to become Canada's first female Police Chief in Calgary in 1995 — connected through Twitter.
"I put out a tweet saying she inspired me to become a police officer and she was very appreciative of that message even though I don't know if she remembers me," she said. "I remember what I was wearing the day I met her. Also, the picture I took was taken in front of the station's logo rug which is still hanging in the same spot on the second floor just outside my office."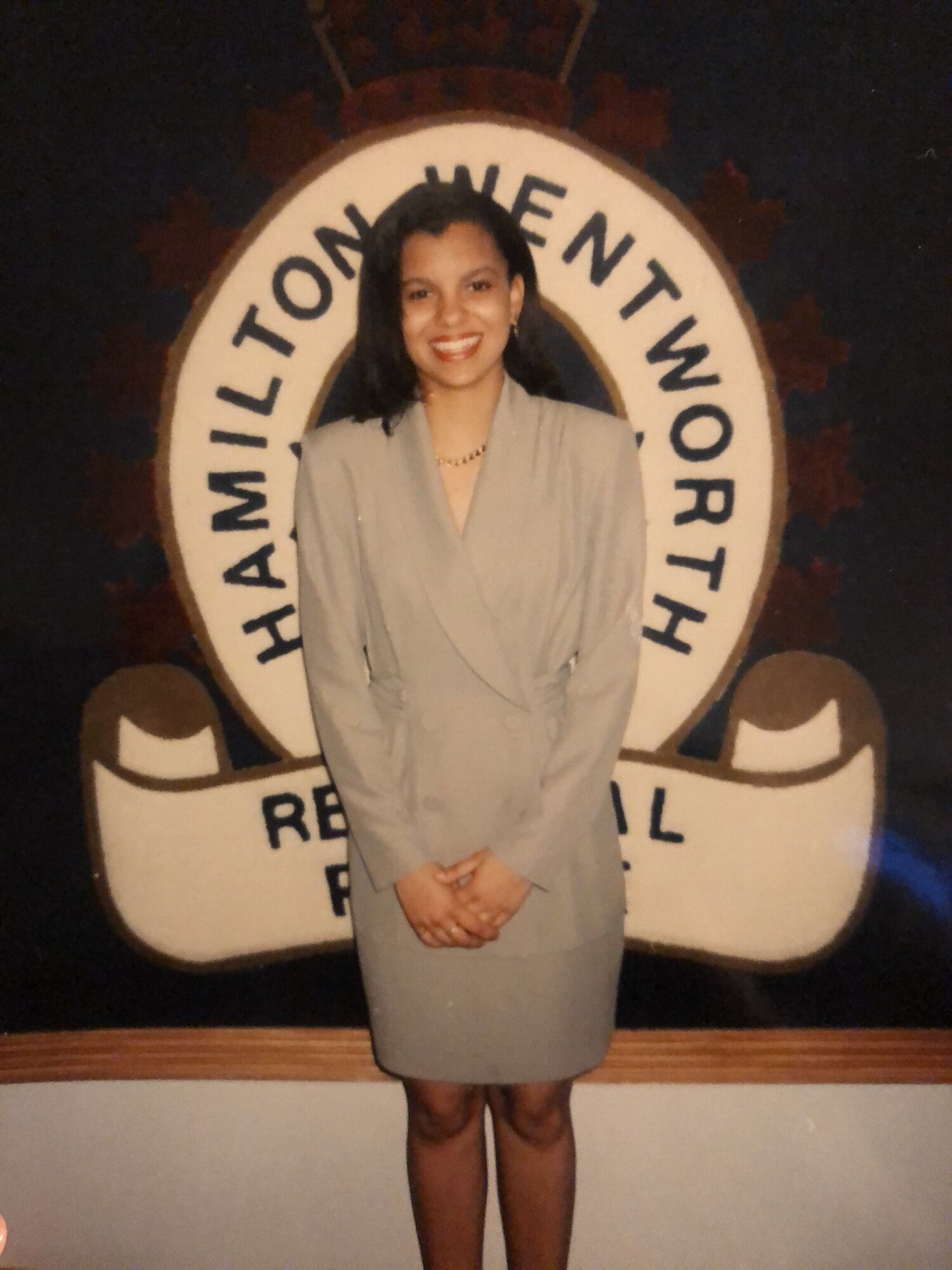 A few weeks ago, MacSween met a young female student who was Chief for a Day.
"She looks just like me and it was really a full-circle moment," she said. "I told her how I was inspired to become a police officer and that I know she can become a cop one day if she chooses to and light the world on fire. I will never forget the glow in her eyes as I was telling her the story. It was an awesome moment and it made me realize that I may be the first, but I will definitely not be the last."
Jackie Edwards, the President of the Association of Black Law Enforcers (ABLE), welcomed the promotion.
"We celebrate Treena's hard work, competence, tenacity and perseverance which undoubtedly propelled her to this historic promotion," she said. "We are excited and inspired by her achievement and look forward to her continued success."
Policing runs in MacSween's family.
Her father was a police officer in Jamaica before migrating to Canada via England in the early 1960s. He died last September at age 85.
Wayne Foster, the eldest of the three siblings, served with Peel Regional Police before becoming the Greater Sudbury Police Service's first Black officer in 1986. He retired in 2015 with 31 years of service.
After 40 months with Peel, MacSween laterally transferred to HPS in April 2001.
"Back then, you applied to different Services and Peel was the first to come through for me," she said. "I was in Hamilton since Grade Six and always wanted to police where I live."
Jamaican-born Marcine Blake, who retired at the end of May, was HPS's first Black female uniformed hire three decades ago.
She was a role model for many, including MacSween who spent her first 12 years in Mississauga before her parents relocated to Hamilton.
"Marcine is such a joy and her smile could light up a room," MacSween said. "As the first Black female officer, she recognized she had an opportunity to influence others. Assigned to the Recruiting Branch, she worked tirelessly to increase the Service's diversity."
Despite Blake's efforts, Hamilton has just four Black female officers, including 2020 Ontario Women in Law Enforcement (OWLE) Mentoring & Coaching Award recipient Carolyne Rashford – she and her family migrated from Africa in 1982 — who was recently promoted to Staff Sergeant.
The others are Detective Constable Candace Nzeakor, who is assigned to the Vice & Drug Unit, and Constable Gillian Robinson who is with the Support Services Division.
The paucity of Black female officers befuddles MacSween.
"I just don't know why we are unable to attract them," she said. "We are just as diverse as Peel and Toronto which doesn't have the same problem. I hope that my promotion and the attention it is being given will help to change that narrative."
In the last four years, MacSween has been mentoring female students at Cathedral High School.
"One of the teachers reached out to me," she said. "The students wanted to hear from a female officer, preferably Black and she asked me to come in and give a little talk. I take Carolyne with me because I am a firm believer that if you can see it, you can be it. When we are standing in front of the students, we want them to know that though they may not see a lot of Black officers driving around in cruisers, we are here and we want you to be part of our team."
In 2015, MacSween along with Inspector Robin Abbott and Staff Sergeant Andrea Torrie started an informal mentoring program in Hamilton to boost the number of females in the executive rank.
TIME (Teach, Inspire, Mentor, Empower) emanated from a study she did addressing some of the challenges female officers face in securing promotions to the Inspector rank and above.
"I found we did a really good job of being reflective at the ranks of Constable and Sergeant," said MacSween who has a Police Studies Diploma from McMaster University Centre for Continuing Education and a Bachelor of Arts from Athabasca University. "But when we hit the Staff Sergeant rank, there's a sharp decline in the numbers. So I came up with a business case to try to informally mentor and we have had good success so far. Our Staff Sergeant percentage for females has risen from 14 per cent to 34 per cent in the last six years. That's important as it's the pool we pull from for the executive table."
On the way to breaking barriers in her Service, she counts the support of senior officers, including Chief Eric Girt, Deputy Chief Ken Leenderste and Superintendent Nancy Goodes-Ritchie.
They are all retired.
"When these people saw something in me, they weren't in those ranks back then," MacSween said. "When I first came from Peel, I had an opportunity to do some projects that caught the attention of my Inspector and Superintendent at the time that helped guide me to where I am today. I couldn't be here without their support and that's why I am a big believer in mentoring and supporting and then taking it a step further by ensuring we are diversifying all levels of our organization so that we are reflective of the community we serve."
Promoted to Sergeant in 2010, which was her badge number with Peel, MacSween was elevated to Staff Sergeant four years later and Inspector in 2017.
The first Executive Officer for a Deputy Chief is a Public Order Unit Commander and former Support Services leader.
In her new role, MacSween will oversee the Community Mobilization Division that includes Crime Prevention, Crime Stoppers, Victim Services, Youth Services and the Action, Auxiliary, Bail Compliance, Crisis Response and Mounted Patrol units.
"There are a lot of people under this umbrella," she said. "If they had asked me where I wanted to go, I would have said this division."
HPS hired its first female officers – three – in 1958.
MacSween is just the fourth female to make it to the Command level after retirees Lynda Bowen, Debbie Clark and Goodes-Ritchie.
An external hire from Peel in 1992, Silverberg didn't go through the ranks with the Service.
Married for the last five years to a provincial police service Human Trafficking investigator, MacSween has two teenaged daughters.
She joins Isobel Granger (Ottawa) and Stacy Clarke (Toronto) as the highest-ranking Black female police officers in Canada.
"Although we celebrate their success in reaching this milestone in their career advancement, three simply isn't enough," Edwards pointed out. "ABLE has been calling on police leaders and on the justice sector as a whole to be reflective of the diverse communities it serves, especially at the senior ranks."
Source: Ron Fanfair