'Tribute to a courageous woman who changed the course of history'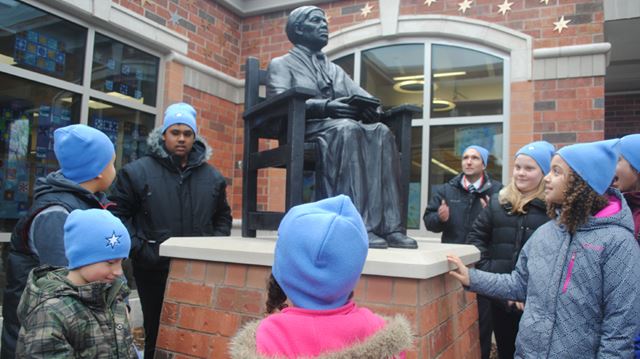 Harriet Tubman statue
Paul Forsyth/staff photo
Students pull off a quilt to unveil the new statue of Harriet Tubman on Tuesday at the public school named after her.
Niagara This Week – St. Catharines
ST. CATHARINES — Some might wonder why the stunning new statue of Underground Railroad heroine Harriet Tubman that was unveiled at the public school named after her portrays her reading a book.
After all, Tubman couldn't read or write.
But that's largely the point of the creation by Niagara artist Frank Rekrut.
Rochelle Bush, historian and trustee at Salem Chapel British Episcopal Church where Tubman was a member, told a huge crowd gathered for the statue unveiling at the Henry Street school on Tuesday that as one of the most wanted fugitives in America, Tubman used her illiteracy to protect her from those who hunted her.
When suspicious eyes fell on the pint-sized woman who rescued hundreds of fleeing slaves on daring trips back into the United States where she herself had fled slavery, Tubman would famously pretend to read a book because those seeking her capture knew she couldn't read.
But Bush said Tubman also became a tireless advocate for education during her long and eventful life. "She felt it was very important for young people to get an education," Bush said.
Ronna Lockyer, principal of Harriet Tubman Public School, said it's always been a source of pride that Tubman called St. Catharines home after fleeing the bonds of slavery. She lived on North Street, not far from the school.
"To think that this incredible woman who has been named one of the most influential people of the 20th century by Time magazine, one of the top 25 most influential black leaders of all time, and…one of the top 15 most rebellious women of all time, actually chose our city as home after leading of slaves to freedom," said Lockyer.
"Her story has become our story."
The school's logo is the North Star, paying tribute to Tubman supposedly using the constellations to guide her on her perilous journeys across the border at nightfall.
Lockyer said the statue will pay tribute to a tiny woman who became a giant in history.
"Our school couldn't be more thrilled and thankful that the lifelike bronze will adorn our courtyard forever and remind generations to come of the wonderful impact that this woman has had on history," she said.
Dale Robinson, chair of the District School Board of Niagara and trustee for Thorold, said Tubman "changed the world" through her dangerous work on the Underground Railroad that ended in Niagara.
"She allowed people to seek their freedom one step at a time through the countless journeys that she made through horrible, horrible conditions that we can only imagine," she said.
Rekrut's son Michael, representing his father who now resides in Florence, Italy, said his dad was honoured to create the statue of Tubman.
"It's a tribute to a courageous woman who changed the course of history and is still teaching us today," he said. "She's an incredible example of how one individual, with courage and conviction, can change not only the lives of the  people she saved, but also history for future generations."
The DSBN paid $40,000 towards the cost of the installation of the statue and preparation of the grounds for it. The 'Bringing Harriet Home' fundraising campaign was launched to cover the remaining $40,000 cost.
Source: NiagaraThisWeek.com