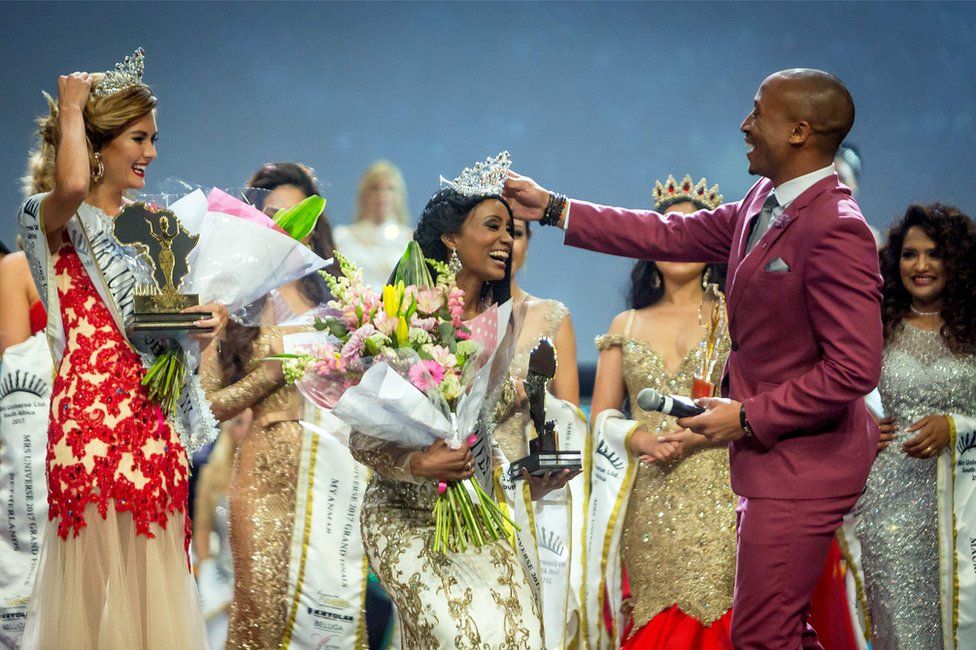 The new Mrs Gabon laughs as the master of ceremonies places her crown back on her head after it had fallen on the floor at Saturday's Mrs Universe beauty pageant. Gwen Madiba was first runner-up in the competition held this year in Durban, which is open to women aged between 25 and 45 who have a family, a career and are involved in charitable causes. Source: BBC News
Below is Gwen's Facebook post on the event
I was crowned first runner up and I became the first black woman in 40 years of the pageant's existence to make the top 5 and be in the top 2. It was a win for my country, for Africa but also for black women across the world.
Gabon!!! 
🇬🇦We made history in South Africa! 
🎉
💕
🙏🏾
I would like to dedicate this crown to the 82 women who shared this amazing journey with me; to the great Mrs Universe team in South Africa who made the world see another face of Africa while encouraging us to empower each other.
I would like to dedicate this crown to my country Gabon and my continent Africa! This is for you and all that you've done for me. Thank you the embassy or Gabon in Canada who made it possible.
I would like to dedicate it to the strong women around the continent and my very own Mrs. Valerie Assele who has done every thing in her power to allow me to stand on this stage and represent my country and my continent in full force, with love, faith and power.
I dedicate this to all those who have supported me from the beginning without questioning one minute my ability to succeed, first and foremost @redfactory, @herabeauty_Ottawa who said yes with no hesitation. I look forward to working with you this year.
Kim you gave me more than clothes @redfactory, you gave me strength, hope and courage. I can't wait to put this crown onto your head. You deserve it.
@geraldwellshair Thank you so so much for beautifying me for this big night. Your team has been incredible with all of us.
I dedicate this to the young queens and kings that we met throughout our stay in South Africa from the schools in the townships to LIV. Thank you for showing us what strength and resilience looks like.
I dedicate this to my family who prays with me continuously through thick and thin and makes me understand that without God, there's no way!
I dedicate this to the queens and kings around the world, young and old who are always told not to do something by others, who are told that they can't achieve a vision that God has given them, who are constantly discouraged by others who choose to give up on their dreams… know that God doesn't give you a vision without provisions. Anything is possible through God! Know it! Believe it! Live it!
And lastly to my mother and father who taught me that : "Wheresoever a woman stands becomes her kingdom" Thank you will never be enough to thank you!
Now let's get to work!!! 
🎉
🎉
🎉
🇬🇦
🇬🇦
🇬🇦
🙏🏾
🙏🏾
🙏🏾
💕
💕
💕
💕
💕
🙏🏾
🙏🏾
🙏🏾
🙏🏾
🙏🏾
🙏🏾
🙏🏾
🙏🏾
🙏🏾
🙏🏾
More from Gwen on Facebook
Gabon, Thank you so much for such a warm welcome from my arrival to my departure I've been welcomed with the utmost love, encouragement and support. I also had the blessing to exchange with our youth and I look forward to launching the youth dialogues for the first time in Gabon within the next two months. God is really good. Together we can achieve so much more