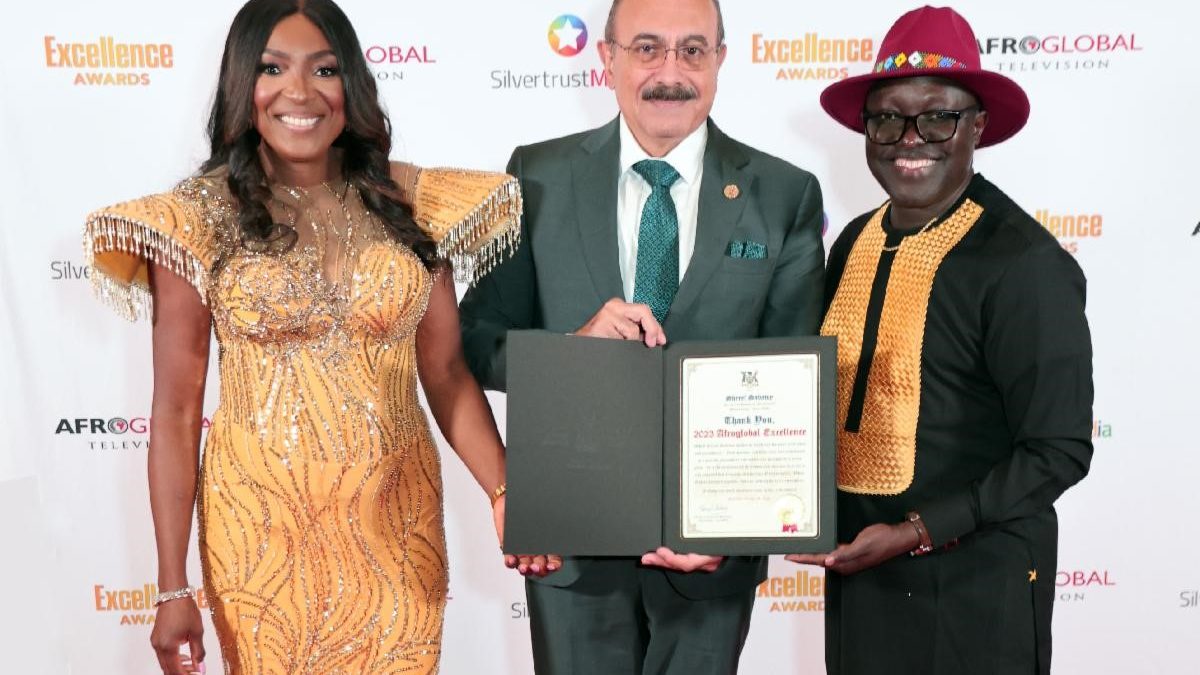 Friday 27 October 2023

THE 2023 AFROGLOBAL EXCELLENCE AWARDS WAS A NIGHT OF CELEBRATION & INSPIRATION
The 2023 Afroglobal Excellence Awards Gala was a tremendous success! The unforgettable night of elegance, celebration and inspiration celebrated recipients with prestigious excellence awards in sixteen categories, showcasing their outstanding achievements and the positive impact they have made on society. It was hosted by Commander Paul Smith of the Royal Canadian Navy's HMCS York and award-winning actress Linda Osifo.

A special unveiling of the latest edition of Excellence Magazine was done featuring a cover story on Hon. Greg Fergus, the Speaker of the House of Commons and 2022 MC for the Excellence Awards. A plaque with commemorative coins of the No. 2 Construction Battalion was also presented to him. The gala will be featured in a 90-minute special on OMNI TV on November 7th at 11 PM and on Afroglobal Television on November 12th at 4.30 PM.

The Recipients of the 2023 Excellence Awards were:
Martin Luther King Legacy Award, Mark Beckles, Vice President, Social Impact & Innovation, Royal Bank of Canada (RBC);
Media Award, Clement Virgo, Film and Television Writer, Producer and, Director;
Global Impact Award, Rahel Assefa, Vice President of Marketing, Ethiopian Airlines; Leadership Award, Ginelle Skerritt, Chief Executive Officer, York Region Children's Aid Society; Nelson Mandela Humanitarian Award, Surjit Babra, Founder, Skylink Charity & Chairman, Skylink Group;
Enterprise Award, Toyin Crandell, Founder, Money Mindset Shift & Host, Millionaire Money Podcast;
Renaissance Award, Louis-Edgar Jean-François, CPA & CEO, Groupe 3737 & Co-Founder and Chairman, FACE;
Professional Achievement Award, Fae A. Ellington, Communications Consultant, Media Personality & Lecturer;
Science and Technology Award, Tamara Seales, President, Seaford Pharmaceuticals.
Marcus Garvey Award, Joseph Bodun Macaulay, Community Advocate & Financial Services Consultant;
Community Development Award, Kemi JacobsExecutive Director, Delta Family Resource Center;
Visionary Award, Ivan Dawns; Rising Star Award, Michelle "Töme" Akanbi, Award-Winning Singer, Songwriter and Actor;
Heritage Award, Ronnie Mayanja, Founder, Uganda Diaspora Network & the Uganda Canada convention;
Entertainment Award, Isioro Tokunbo Jaboro,Film Producer & Founder, Toronto International Nollywood Film Festival
Lifetime Achievement Award, Dr. Winston LaRose, Community Advocate & Founder, Jane-Finch Concerned Citizens Organization.

Sponsors and partners include RBC Royal Bank, Western University, Ethiopian Airlines, TD Bank, Canadian Race Relations Foundation, George Brown College, First Fridays, EY, International Union Of Painters & Allied Trades, First Fridays, Honam Naturals, OBHS, Phiona's Coconut Village and Spa, OMN Television, and the Transformation Institute For Leadership and Innovation.

Afroglobal Television , a 24-hour global super channel, presents the awards gala with other partners. The sixteen recipients of each year are role models for youth in the Crossover Mentorship Program. All Excellence Award recipients will be profiled in a special edition of Excellence Magazine.



Some of the 2023 Excellence Awards Recipients

 
A special edition of Excellence Magazine featuring a cover story on Hon. Greg Fergus, Speaker of the House Of Commons was unveiled

Award-Winning actress Linda Osifo arrives

Commander Paul Smith of the Royal Canadian Navy and award-winning actress Linda Osifo, Masters of Ceremonies for the event

Jade Hip Pop Academy

Hon. Greg Fergus, Speaker of the House Of Commons is presented a commemorative plaque with anniversary coins of the No. 2 Construction Battalion
 
Winston Larose receives the Lifetime Achievement Award

Harriet Tubman tribute performance by Worship In Unity

Honourable Member of the Provincial Parliament presents a certificate of recognition to Patricia and Moses Mawa

Deputy McCloskey of York Regional Police (2nd from left), York Police officers and Moses A. Mawa, President & CEO, Silvertrust Communications & Afroglobal Television

Prime Minister Justin Trudeau's Message for the 2023 Excellence Awards


Afroglobal Television | 19 Waterman Avenue, Suite 207, Toronto, M4B 1Y2 Canada

---