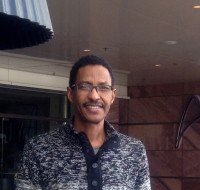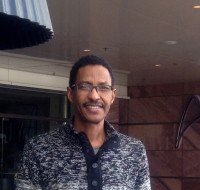 Awad Ibrahim is a Professor at the Faculty of Education, University of Ottawa. He is a Curriculum Theorist with special interest in cultural studies, Hip-Hop, youth and Black popular culture, social foundations (i.e., philosophy, history and sociology of education), social justice and community service learning, diasporic and continental African identities, hnography and applied linguistics. He has researched and published widely in these areas. Among his books, The rhizome of Blackness: A critical ethnography of Hip-Hop culture, language, identity and the politics of becoming (Peter Lang, 2014); The education of African Canadian children: Critical perspectives (Peter Lang, 2014; with Ali Abdi); Provoking curriculum studies: Strong poetry and the arts of the possible (Routledge, 2014; with Nicholas Ng-A-Fook and Giuliano Reis); Global linguistic flows: Hip-Hop cultures, youth identities and the politics of language (Routledge, 2009; with Samy Alim and Alastair Pennycook).
**************************************************
When the Black Body is Made Black:  Rethinking the Nuances of Blackness
by Dr. Awad ibrahim
Picture this: It was 1:10 p.m. on a sunny and an unexpectedly hot Sunday in May more than five years ago. I was bicycling on St. George Street in downtown Toronto. I had just crossed Bloor Street West when I saw a white car curving into the bicycle lane and I heard a siren coming from it. When it was fully halted before my bicycle, I realized it was a police car. From it came veering a rangy White man with a clean and handsome gun. He approached my bicycle and said, "Have you ever been in trouble with the law before?" Shocked beyond any imaginable belief, I said "No." "Can I know why am I asked the question?" I added. "You fit the description of a man we are looking for, who just snatched a bag from Yorkville; and I just saw you around the Yorkville area," he said. He immediately began a walkie-talkie conversation with a dispatcher. "I am talking to him right now," he said.
"Can I know why I was stopped?" Before I finished my question, his face turned red and he loudly said, "I told YOU Sir that you fit the description of a man we are looking for." "And what is that description?" I wondered. "We are looking for a dark man with a dark bag," he said. "A dark man?" I repeated. "We are looking for a Black man with a dark bag," he rephrased. I now became 'Black,' and I looked at my backpack, and it occurred to me that it was light-blue with one very small black (or as he said "dark") stripe at the edge. Another police car came with another White policeman. I was asked for a piece of identification, so I gave them my citizenship card. I was then asked to open my bag, which I did, with every passerby looking in. One White woman was smiling. When it got closer to 2 p.m. and my ride for Ottawa was to leave at 3 p.m., I decided to use my University of Ottawa professor identification. I had to. After writing down my information, he announced to the dispatcher, "All is OK now." With no apologies, I was ordered to collect my bag and, as he uttered it, "You are free to go now."
One of the theories that helps us understand how race impacts our daily lives is called 'critical race theory' (CRT). One of its major tenets is storytelling. For CRT, storytelling is a therapy and a powerful tool for especially historically marginalized voices to talk back and write their own stories. In doing so, they get to write history, imagine their own future, and thus decolonize themselves. The story above is told from that spirit. It is not meant to seek sympathy nor was it told to evoke the reaction, 'There we go again. Black people complaining and pulling the race card!' My intent in telling this story is to use it as an anchor for my contentions, and to argue three things that I substantially explored and have written about elsewhere, but because of space, I can only state here:
1)        I am a continental African who was born and grew up in the Sudan, where the adjectives that used to patch together my identity included, "tall," "academic," "Sudanese," "basketball player," etc. In other words, race is not 'the' defining category of my social identity. However, once in North America, these antecedent adjectives become secondary to my Blackness. In the vignette, a) I was officially declared 'Black' by an authorized speaker; b) I became aware of the power of the state of mind: "Oh, they all look like Black to me!" and c) became aware of what it means to be Black in Canada.
2)        My incident is not unique. A substantial number of the African youth I have been working and doing researching with for more than 15 years now have told some version of my story either at school or in the larger Canadian society. But they have all experienced some form of identity transformation. Once in North America, the students who are Dinkas, Fulanis, Zulus, and Bantus all find themselves falling under the umbrella of Blackness. In terms of identity, they make a shift from being Dinka to being Black, thus enter the process of becoming Black.
3)        Becoming Black is a new identity formation that expresses itself in and through language. African youth enter the process of becoming Black by taking up Hip-Hop culture and identity and by learning Black English as a second language (BESL), which they access in and through Black popular culture.
My main point is this: We need to reflect and think about the nuances of Blackness. In contemporary terms, continental and diasporic Africans need to work together and speak a powerful language against discrimination, racism, Middle Passage and continued exclusion from educational, health and other social institutions. But, as we do that we should not lose sight of the fact that Blackness is a historically contingent category that is always-already multicultural (Jamaicans are not Ghanaians), multilingual (Black Brazilians speak Portuguese while Tanzanians speak Swahili), multiethnic, multinational and more than ever heterogeneous.