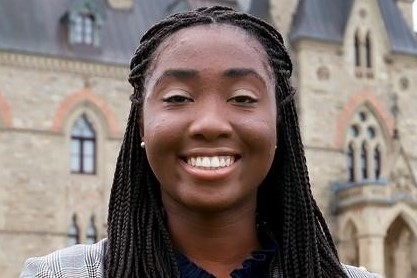 October 5, 2022
Youth Community leader Angelica Kalubiaka receives Mayor's City Builder Award
Mayor Jim Watson, with Councillors from Innes and West Carleton-March wards, recognized Angelica Kalubiaka's dedication to the community at today's City Council meeting by presenting her with the Mayor's City Builder Award.
Angelica Kalubiaka is an energetic young resident of Orléans who is dedicated to making her community a better place through volunteerism and leadership. She is a proud Franco-Ontarian who has been a strong advocate for francophones, youth and women. Ms. Kalubiaka was a member and then president of the Orléans Youth Council where she provided non-partisan advice to local MPs and MPPs on policy issues and the priorities of youth in our community. As a member of the Ottawa Youth Engagement Committee, she worked to increase youth engagement in decision making with the City of Ottawa. She organized a variety of networking and community events for youth and was instrumental in organizing the first "Mayor for a Day" initiative to promote youth engagement in municipal politics.
Ms. Kalubiaka also has an impressive academic record and has been recognized on several occasions for her leadership. She was selected as a Canada Youth Summit delegate in 2019, and in 2020 she represented Canadian youth at the first Virtual Youth Summit, organized by Global Changemakers.
Some of her accolades include the Orléans 150 Award, and the Orléans Leading Women and Girls Award. She is also a recipient of the Canada 100 Black Women to Watch 2020, from Canada International Black Women Excellence.
The Mayor's City Builder Award is a civic honour, created to recognize an individual, group or organization that, through outstanding volunteerism or exemplary action, has demonstrated an extraordinary commitment to making our city a better place today and for the future. This may include lifelong service, outstanding acts of kindness, inspiring charitable work, community building or other exemplary achievements.