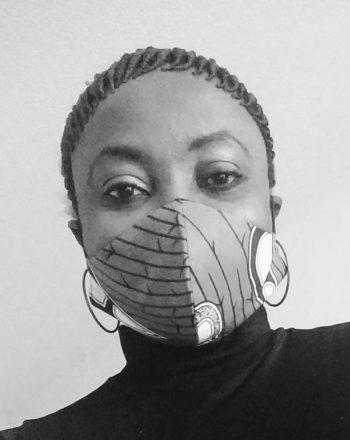 May 24, 2020
Nigerian-born Faith Uchechi-Eluwa gives away Ankara masks to help prevent spread Of COVID-19
Her name is Faith Uchechi-Eluwa and she is a young woman with a mission; to help prevent the spread of the dreaded covid 19 virus in the city of Ottawa. To that end she has single-handedly decided to make and distribute face masks to anyone who needs it. And all this at no cost to the user. Made of Ankara material from her native Nigeria, these stylish masks have been a great hit and people from all walks of life have been contacting her to get their own. These include diplomats from the various embassies in the national capital.
Faith's talents are not limited to sewing and giving away free masks. She is also an accomplished cook – she organises cooking competitions with prizes awarded from her own pocket. Not stopping at that, she is also well known in Ottawa's multi-ethnic community as a traditional cultural dancer, an exponent of the famed Efik-Ibibio "Ekombi" dance (dance of the maidens), a frequent feature at many of the city's multi-cultural events. All these in addition to her volunteer role as Vice-President of the Nigerian-Canadian Association of Ottawa.
Black Ottawa Scene caught up with Faith in-between the demands of her busy schedule with some questions.
What made you decide to give away free face masks?
It is my own contribution to the community to fight against Covid-19 and I wish I could do more to help people to stay safe'
How many have you distributed so far?
I have distributed over a thousand and l am still distributing.
Did you take any sewing lessons before starting this project?
I learned sewing in my high school in Nigeria.
How do you distribute the masks?
Most times I stay at Elmvale mall, St Laurent Shopping Mall entrance opposite the OC Transpo station and also sending out by post to different places.
Are you involved in any other volunteer activities?
Yes, l do volunteer in many places and also in the church.