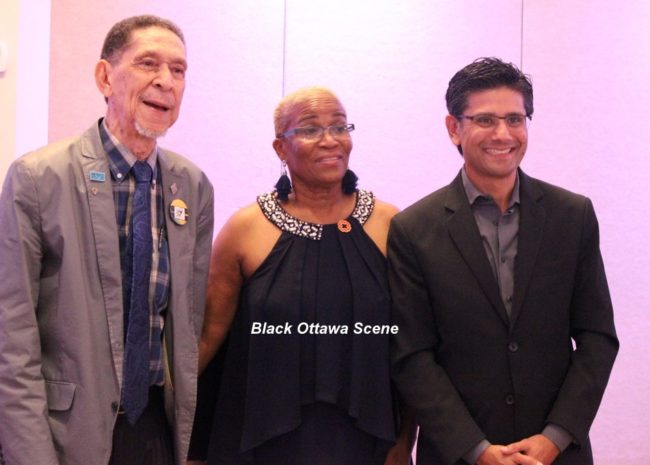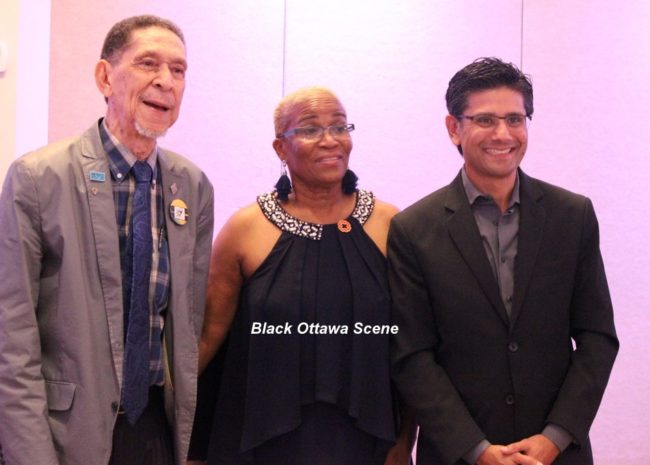 Saturday 24 August 2019
Two icons of Ottawa's multicultural community were honoured last Saturday at a gala organised and hosted by Flo's Seniors, under the leadership of our own indefatigable Joanne Robinson. Former Ontario Attorney General and Minister of Justice, Yasir Naqvi; and Ottawa Sickle Cell Group founder and advocate Unita Louis, were the guests of honour at this special event held at the Centurion Centre on Colonnade Road. Among the guests were Ottawa Deputy Mayor George Larouze, with CTV anchor Stefan Keyes joining the celebration via an audio feed, to pay tribute to Yasir and Unita. The event was also an occasion to provide last year's award winner Des Doran, his own plaque, which had not been available at the time of his award. One big surprise was the United Way Community Builder award to veteran volunteer basket-ball coach Merrick Palmer, by United Way representative, Sarah Onyango.
Yasir Naqvi is currently Chief Executive Officer of the Institute for Canadian Citizenship, Canada's leading voice on citizenship and inclusion. Prior to his current position, he had represented Ottawa Centre as Member of Provincial Parliament, holding such portfolios as Government House Leader, Minister of Labour, Minister of Community Safety and Correctional Services. His last ministerial appointment was Minister of Justice and Attorney General for Ontario.
Unita Louis leads with the fact that she is the proud mother of Brent Louis and Heidi Louis-Slater. When Brent was diagnosed at birth with sickle cell anemia, Unita founded the Sickle Cell Group (formerly Sickle Cell Disease Parent Support Group), an organisation that advocates for research and improved services for persons affected by this genetic disorder, common among people of African descent. She was instrumental in the introduction of treatment plans and medical directives in emergency departments at the Ottawa Hospital and Children's Hospital of Eastern Ontario, ensuring expedited care to sickle cell patients in crisis. , She, among others, successfully advocated for the introduction of newborn screening for sickle cell disease in all hospitals by the Ontario Provincial government.
Flo's Seniors is a not-for-profit corporation dedicated to promoting independence and well-being of older adults in the Ottawa region through provision of information, as well as supportive programs and services