"Soccer brings us together, but the participants also benefit from other services that are available in the city."
by :Matthew Lapierre
September 12, 2022
At the height of the pandemic, community worker Reuben Nashali watched immigrant youth in Ottawa struggle with the social impact of COVID-19 closures.
Before the virus, many of the immigrant families Nashali worked with through his job at the Social Planning Council of Ottawa (SPCO) had relied on social programs. Suddenly, those programs weren't operating.
Nashali, who grew up in Congo, spent time in a refugee camp in Kenya and came to Canada in 2017, had always played soccer and knew the sport had a way of connecting people — something the community drastically needed. He sought a way to get immigrant youth together on the pitch.
"We went into the community to see if we even had an organized soccer team that youth could participate in. We tried to look around, and all of them were posting $360 to register, or $500 or even more," Nashali said.
"To us, it didn't make sense. We were once immigrants and we were living on a $700 budget a month. Moving $100 to register for a soccer tournament? That's almost impossible."
Nashali approached his bosses at SPCO and was given a grant of $2,000. With that money, he was able to co-found Active Newcomer Youth Ottawa (ANYO), buy some equipment and organize an initial meetup in the Herongate area.
In the summer of 2021, approximately 100 youths played soccer through ANYO's program. They were divided into teams and met regularly to compete. This year, the program has grown to 16 teams. They held their final tournament match at TD Place stadium on the Labour Day holiday weekend. It was a raucous, joyful affair, according to Nashali, with hundreds of people in attendance: a far cry from the initial meetups at a field in Herongate.
But the soccer games conceal a more important goal. Nashali uses them as a way to unite and connect newcomers, lift their spirits, help them find a sense of belonging and give them access to employment and social programs that, otherwise, they might not have known existed.
"Soccer brings us together," he said, "but the participants also benefit from other services that are available in the city."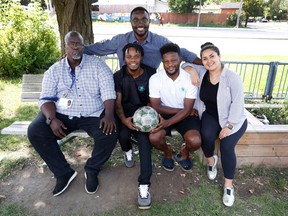 Nashali recalled how some immigrant youths who didn't even play soccer came to the meetups to make friends and socialize. Others shared job opportunities across the city and helped each other find work.
The program has been a success. Nashali polled the soccer players before and after they participated in the program and found they reported having dramatically better mental health afterward. Next year, he hopes to secure more funding to offer soccer engagements through the winter and to pay for more equipment.
More recently, Nashali has partnered with Jooris Ndongozi, father of Tyson Ndongozi, a beloved 20-year-old who was shot and killed at a Lowertown basketball court in 2021. Jooris heads Tyson's Dream, an organization devoted to ending the type of violence that took his son's life.
"Some of (the youths participating in the soccer program) knew Tyson and knew what happened," Nashali said. "It's a problem that the entire community is still reflecting on every day."
When Jooris Ndongozi speaks about street violence at ANYO events, he tries to empathize with them. He knows the pain and suffering of losing a loved one and wants others to know that, together, they can prevent other deaths.
"For kids to listen to you, you have to be on their side, speak in a way they understand," he said in an interview. "They have to know you. I know how to do that."
Nodongozi's message is for youth to support one another, to be aware of their friends and help them if they seem to be turning down a path that could lead to violence.
"Whenever he talks to the youth, you see the reflection on their faces," Nashali said. "(Ndongozi) is determined to make this a collective issue. Let the entire community view this as a community problem, as a community issue that, therefore, needs a collective solution from everybody in the community."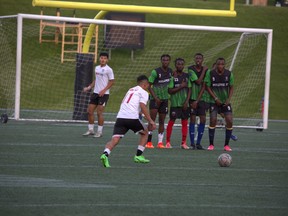 On Saturday, participants in the soccer program will have an opportunity to celebrate the summer's activities at St. Laurent Complex. In addition, the event called The Immigrants Night will be a forum for conversation and acknowledging the accomplishments of those who have contributed to their communities.
It will also serve to launch an immigrant youth council. Nashali said the council would have a one-year mandate to focus on finding solutions to gun violence. They will meet monthly, discuss the root causes of gun violence in Ottawa and later present their findings to stakeholders.
It's a way of sourcing solutions to violence from those most affected by it, Ndongozi said.
"Rather than us telling you what you must do, the ideas need to come from you," he said. "Come tell us what needs to happen. Come and tell us what you need us to do for you."
Registration for ANYO's 2023 soccer program will begin in April. More information is available on the website anyottawa.com. ANYO offers soccer programs for those aged 18 to 29 and a drop-in program for youth aged 9 to 17.
Source: Ottawa Citizen