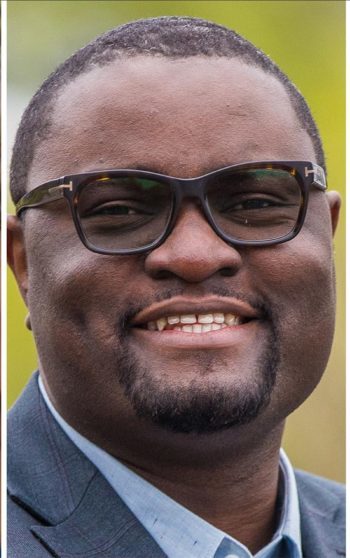 University of Ottawa inaugurates Canada's first interdisciplinary centre dedicated to study of Black health
Thursday, October 21, 2021
The University of Ottawa is launching the first research centre dedicated to studying the biological, social, cultural and economic determinants of health in Canada's Black communities.
Led by Jude Mary Cénat, associate professor in the Faculty of Social Sciences' School of Psychology and founder of the Vulnerability, Trauma, Resilience and Culture Research Laboratory (V-Trac Lab), the Interdisciplinary Centre for Black Health (ICBH) brings together in one teaching and research space scholars with complementary expertise in medicine, sociology, psychology, nursing, nutrition, law, epidemiology and economics, who will work in synergy to promote health equity for members of Black communities and encourage a preventive approach.
The ICBH will collaborate with academic and institutional partners to determine research priorities related to the health of members of Black communities in Canada and to elicit genuine community engagement through a series of consultative forums. For Cénat, "the centre must build real trust with Black communities. We have to do things with them, not for them."
Fighting race-based health disparities
There are over a million Canadian Blacks. According to a study on racial discrimination co-authored by Cénat, over 53% say they have been victims of significant racism in their interactions with health care services.
The new ICBH addresses the need to confront existing racial disparities in Canadian health care. "We clearly demonstrated in our 2019 study on mental health that racial discrimination plays an extremely important role in depression among members of the Black community," says Cénat. "Those who experience a high level of racial discrimination are 36 times more likely to experience symptoms of severe depression compared to those who experience less racial discrimination."
This observation has led, since 2019, to Cénat advocating a widespread consultation on mental health issues within the Black Canadian community. Thanks to the leadership of Vicky Barham, dean of the Faculty of Social Sciences, the idea was broadened to include Black peoples' health in general. "I am very proud to support the launch of the Centre: it is a pioneer of its kind, and its interdisciplinary vision will ensure its success. It will not be long before we see the benefits for the wider community," says Barham.
A multidisciplinary approach
"There are inextricable links between physical and mental health," says Cénat. "A person who experiences racial discrimination and develops depression is also prone to experience much stress and can develop diabetes, high blood pressure and, later, kidney problems."
For Cénat, as well as for the other three members of the centre's leadership group, Dr. Sharon Whiting, vice-dean, faculty affairs of the Faculty of Medicine, Professor Chibuike Udenigwe at the School of Nutrition Sciences of the Faculty of Health Sciences and Professor Emmanuelle Bernheim of the Faculty of Law, it's essential to approach Black health in a multidisciplinary and interdisciplinary fashion.
This is the ICBH's mission, by combining the research efforts of its 20 or so members and partners in five faculties (Civil Law Section, Common Law Section, Medicine, Health Sciences and Social Sciences) and five research institutes at uOttawa-affiliated hospitals (the Royal, the Institut du Savoir Montfort, the Heart Institute, CHEO and the Ottawa Hospital).
Guiding public policy
"We need to better understand today what in these health disparities is systemic and what isn't," says Cénat. "Our priority is to establish a research agenda that allows us to provide evidence to guide our federal, provincial and municipal authorities in developing public policy that reduces and eliminates these race-based health disparities. We're talking about matters such as early mortality, lower COVID-19 vaccination rates, lack of consent to certain gynecological practices, socioeconomic conditions and the impact of social or institutional discrimination, which affect the Black community."
A greater focus on diseases more prevalent in the Black community, such as sickle-cell anemia, which is hereditary, or on nutrition, is in line with the centre's targeted approach. "Nutrition is a major determinant of health, so it is crucial to understand the properties and nutritional quality of food. This is especially important as a strategy to reduce the prevalence of diet-related health issues, such as hypertension and diabetes, in Black communities," says Professor Udenigwe, the University's Research Chair in Food Properties and Nutrient Bioavailability.
Reflecting racial diversity in health-care professions
Encouraging training of more health-care professionals from the community is crucial. "You can still count the Black psychologists in Ottawa on the fingers of one hand," notes Cénat. Training medical and health sciences professionals is also a key ICBH priority. The centre will work to develop guidelines for hospital and health centre practice concerning Black communities.
"I look forward to participating in the activities of this Centre which will create more opportunities for practitioners in this area of research, as many gaps still need to be addressed," says Dr. Whiting. "Culturally-sensitive care best serves patients and their loved ones, and it can be improved by increasing representation of members from the Black community within the ranks of physicians, medical academic staff and learners. The Faculty of Medicine is proud to be a founding member of this important new Centre as it is very well aligned with our own commitment and efforts in this sector."
Research of use to other communities
"We're definitely benefitting from a situation that favours these research synergies," says Cénat. "We're part of an overall environment where the progress we make in Black communities will also be useful to all other communities, including the Indigenous community."
Dr. Florence Dzierszinski – President of The Royal's Institute of Mental Health Research, affiliated with the University of Ottawa, and Vice-President of Research at The Royal
"On behalf of the University of Ottawa Institute for Mental Health Research at The Royal, I share my deep congratulations to the University of Ottawa and Dr. Jude Mary Cénat for their vision and for the establishment of the Interdisciplinary Centre for Black Health. The Centre will provide powerful leadership in this important area enabling discovery and new possibilities. We are proud to serve as a partner and look forward to working together to advance the Centre's vision and mission to advance the health of Black communities."
Josette-Renée Landry – CEO of The Institut du Savoir Montfort, the Knowledge Institute
"Motivated by its primary mission to improve the world of health and the health of the world, it is a great privilege for the Institut du Savoir Montfort (ISM) to join the University of Ottawa for the inauguration of the ICBH. As a research institute dedicated to addressing community needs through innovative initiatives, the ISM is aligned with this first academic centre dedicated exclusively to the study of various determinants of health for Black communities in Canada, to improve it. We are very proud to be affiliated with ICBH, and we take this opportunity to renew our support to the Centre."
Source: University of Ottawa