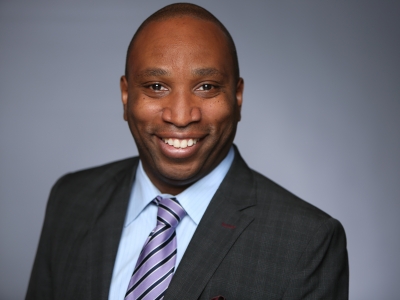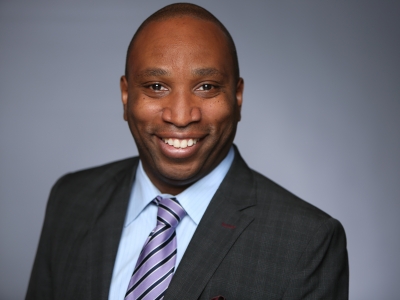 Rawlson King Committed to Building Strong Communities
Rawlson King, Councillor for Rideau-Rockcliffe Ward, is proud of his strong record of achievement and his contribution to building safer, healthier, and more affordable communities over the past three years.
He is seeking another term in office in the upcoming municipal election to be held October 24.
Rawlson King has served as Councillor for Rideau-Rockcliffe since 2019, after winning a historic by-election to become Ottawa's first Black City Councillor.
A strong believer in public service, Rawlson previously served as President of the Overbrook Community Association, a board member at the Rideau-Rockcliffe Community Resource Centre and was the first co-chair of the Ottawa Police Service Community Equity Council. He is a current and founding Board member of the Rideau Winter Trail.

During the 2018-2022 Term of Council, Rawlson served as Chair of the Built Heritage Sub-Committee and was also appointed to the Standing Committee on Environmental Protection, Water and Waste Management. He also served on the boards of the Ottawa Police Service, Crime Prevention Ottawa, Ottawa Community Housing Corporation, Ottawa Public Library, Ottawa Community Lands Development Corporation and Quartier Vanier BIA. He also sat on the City's Information Technology Sub-Committee.

Recognized for his volunteer work, he won a United Way Ottawa Community Builder of the Year Award in 2018, conferred during National Volunteer Week. He also was a recipient of a Black History Ottawa Special Recognition Award, bestowed during 2021 Black History Month.
Since his election in 2019, he was successful in securing a poverty reduction strategy, a food security policy and an anti-racism strategy for the entire City.
As an effective advocate for investment in Rideau-Rockcliffe Ward, Rawlson ensured that over $280 million was invested in infrastructure (road, water, sewer), over $38 million was invested in affordable housing, and nearly $9 million in area parks over his three years in office. He supported and seconded the successful motion to declare a housing and homelessness emergency in the City of Ottawa and is proud to have secured millions of dollars in investment in affordable housing in the Ward for Shepherds of Good Hope, the Multifaith Housing Initiative, Habitat for Humanity and Ottawa Community Housing.
Believing in strong land use regulation, Rawlson championed Ottawa's first community benefits agreement to improve future development in Manor Park and has overseen the designation of over 750 historic properties throughout the City. He also voted in favour of successful new restrictions on short-term rental accommodations.
He reduced speed limits across the Ward with the introduction of residential speed gateway zones and implemented many new traffic calming measures, including new all-way traffic stop controls at Codd's Road and Mikinak Road in Wateridge Village, Queen Mary Street and Vera Street in Overbrook and at entrance to St-Laurent Complex at Ben Street and Coté Street in Castle Heights.
Rawlson voted in favour of a successful motion to declare a climate emergency in the City of Ottawa in 2019, supported the City's climate change masterplan in 2020, initiated a City-wide action plan to address spongy moth infestations in 2021, and successfully introduced the phase out of gas-powered lawn equipment along with a framework for the future naturalization and beautification of the City's right-of-way in 2022. He also voted in favour of a new Tree Protection Bylaw to reduce tree loss due to infill development.
To address public safety, Rawlson successfully advocated for the introduction of a neighbourhood policing pilot project in Overbrook and secured $40,000 in crime prevention funding to support neighbourhood safety programming. He supported investments in equity and diversity at the Police Service and successfully led the redirection of funds in the police budget to establish an independent mental health strategy operated by the City.

He improved bus frequency and routing in Wateridge Village and introduced an inquiry at Transit Commission which resulted in the creation of online booking for Para Transpo customers.
To expand recreational opportunities in the Ward, Rawlson worked with community volunteers to formalize the creation and expansion of Rideau Winter Trail that connects Overbrook, Vanier and Hurdman's Bridge. He currently sits on its Board of Directors and assisted in the effort to secure $71,000 in federal funding for the Trail. He also oversaw the restoration of Stanley Park in New Edinburgh, the opening of the new Lola Park in Overbrook and the playground renewal in Don Gamble Park at the St-Laurent Complex.

To address the pandemic, Rawlson successfully advocated for additional vaccination clinics, door-to-door wellness checks and secured $75,000 in emergency funding for COVID-19 social service supports in the Ward.
In order to advance reconciliation with Indigenous people, Rawlson facilitated a community effort to rename Langevin Avenue after Algonquin leader William Commanda. As Council Liaison for Anti-Racism and Enthnocultural Relations Initiatives, he led the City's first budget consultation for diverse communities and regular town halls with the racialized and Black communities City-wide.
Here's what Rawlson will be working on if you re-elect him as your City Councillor: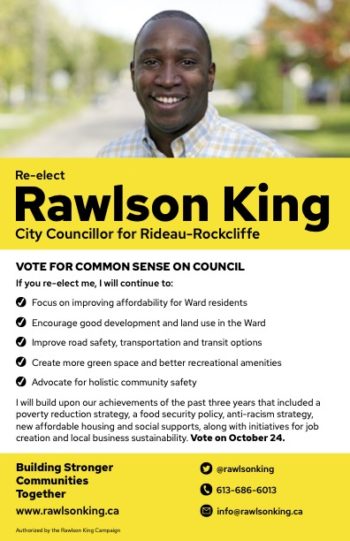 Before his election to public office, Rawlson was an entrepreneur and communication professional with over 20 years private sector experience in marketing, strategic communication and high-technology market research.
Rawlson earned a Bachelor of Journalism (with concentration in Legal Studies) and an M.A. in Communication from Carleton University. A proud Carleton alumnus, he and his wife personally established the Rawlson King and Linda Grussani Scholarship for Indigenous, Black and Racialized Students at Carleton University in 2022.
Source: Rawlson King re-election campaign
Visit his website for more information: www.rawlsonking.ca