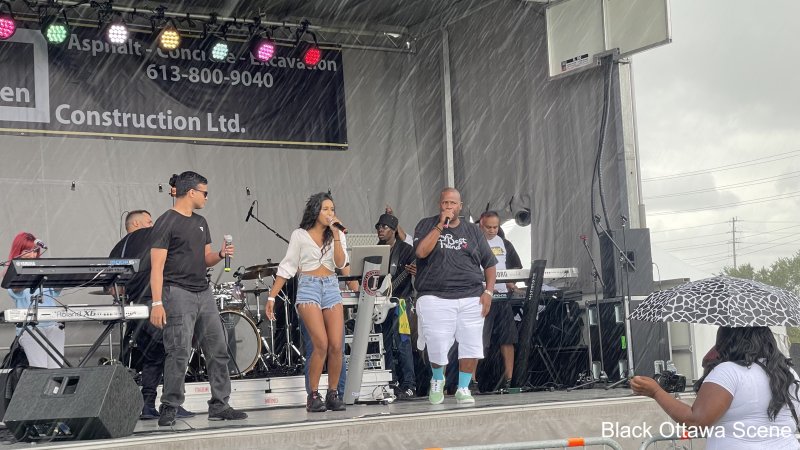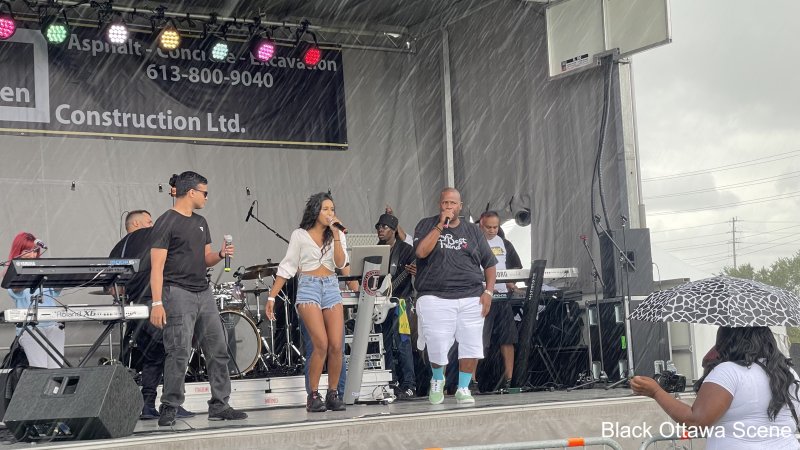 by Ruth Aman
Sunday 13 August 2023
Locals had a jam-packed weekend as the Rhythm and Culture Fest came back around at Clarke Fields Park from Saturday August 12 – Sunday August 13. The newest installation of the Rhythm & Culture Fest, this year's celebration brought energy that no one could deny, including the rain.
Hosted by the Rhythm Movements Community Association, this event was open to those who loved music, food, and the Caribbean landscape. Present in the crowd were individuals of nations ranging from Jamaica, Haiti, Guyana, and Barbados, everyone from families with young children to seniors came together to celebrate this festival of pride and music.
The Rhythm Movements Community Association is a group that consists of members with different backgrounds and experiences. They are a non-profit which strives to highlight the beauty and diversity of Caribbean culture through empowering programs and events such as the Rhythm and Culture Fest, which will be hosted at Clarke Fields park for the next five years. Kristyanne Brooks, a member of the association, explained how the Rhythm and Culture Fest is a highlight of the association's activities as it is open to all of the community, involves them, and shares the culture with them. She mentioned that its goal is to promote local and international artists and vendors in order to educate youth with greater knowledge of their own culture. The association hosts things from holiday parties, to sporting events, and dance classes in order of being interactive with the Ottawa Caribbean population added Kelly-Ann Lindo, another youth member of the association.
Spanning over two days, this festival consisted of an opening ceremony on the 12th including performances from Indigenous groups and a ceremonial land-acknowledgement. Hosted by numerous DJ's who came from Ottawa and beyond, guests were then welcomed to a special mix of performances, entertainment, merchants and vendors.
Running from noon to 11pm on both days, visitors made their way to the Festival at all times of the day. Children were welcomed to a Children's Island which hosted activities including an arcade basketball hoop game, a mega-sized connect 4, and large lego blocks set.
The Healthy Living tent provided a 50/50 raffle with proceeds contributing to the Rhythm Movements Community Associations and their investments into supporting those in the community. Seniors were provided flyers and information brochures discussing ways of supporting healthy ageing and senior benefits provided by the government. This tent was supported by local organizations, Flo's Seniors and the Ottawa Memory Clinic who partnered in providing resources for those at the event.
Vendors who highlighted Caribbean flavours and appetites provide a wide arrangement of treats for visitors of all backgrounds. From traditional Caribbean rice and peas, plantain, and meat selections to a BBQ grill serving Ottawa's finest burgers and fries. Local spots such as Angry Dragonz, an Asian fusion style restaurant, and Lucy's Hot Fries located in Greely offered their famous eats to guests. Fitzroy Reid of Fitz's Classic Grill warmly welcomed hungry visitors who wanted their shot at delectable burgers and ribs from the Smokehouse. Carrying on the traditional food cuisine was the Jerk Specialist who brings unique flavours together by combining West Indian and Canadian meals together. For those who simply wanted to purchase items, many vendors brought an option of goods to buy.
Various items like Ginger Beer and jewellery were accessible for purchase across the entire park.
Nepean's very own Member of Provincial Parliament, Lisa MacLeod, also graced the event on Sunday. She dedicated her time to visiting every booth, engaging with park visitors, reconnecting with old acquaintances, and grooving to the infectious beats resonating through the air.
The entertainment portion of the event highlighted numerous performers and DJ's which had come from all over Canada to take part in the festival. DJ's such as DJ Gravity and DJ Sweet Chunes, took to the booth to play some fan favourites. The infectious Afrobeat melodies from Burna Boy's catalogue, including classics like 'Ye' and more recent tracks like 'Last-Last,' ignited a groovy atmosphere among all park visitors, who joyfully joined in singing along.
A young and lively performance brought excitement to the crowd as YardboyK took the stage. Born and raised in Ottawa, YardboyK had a strong stage presence which electrified those watching on. He performed songs from his latest EP titled Pain to Glory which covered themes of love, heartbreak, and the celebration of life. 'Encore' screamed fans in the crowd at the end of his performance which brought him back to perform a freestyle on a beat prepared by the DJ.
Following his performance was an explosive show by the Band Destiny hailing all the way from Toronto. This Caribbean crossover band performed songs of different genres ranging from Soca to R&B, getting the crowd up and dancing. They performed classic tunes and some of their own original songs highlighting the importance of friendship and their deep pride in their cultural heritage.
The entertainment continued well into the night, with couples seizing the opportunity to hold their partners close and dance until the culmination of the Rhythm and Culture Fest.
For more information on the Rhythm Movements Community Association check out their website: https://rhythmmovements.ca/