Second career acts increasingly popular as seniors deal with rising costs and longer lifespans
Retirement may no longer be the end goal it once was for a growing number of older workers
by Kelsey Rolfe,
July 21, 2022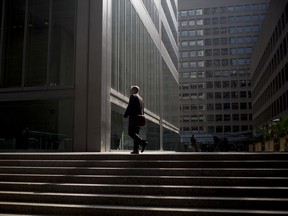 In an ongoing series, the Financial Post explores personal finance questions tied to life's big milestones, from getting married to retirement.
Mike Breau had only stopped working for a few months last fall before she realized retirement wasn't the right fit.
"Throughout the summer and fall it was fabulous, sitting on the dock and reading a book," said Breau, who lives in Orillia, Ont., and held a series of operations director and general manager roles in various industries before her short-lived retirement. "But other things stepped in like housework or cooking … no thank you."
Breau sent out some resumés, and was recruited earlier this year by Off2Class, a Toronto-based education tech company, to come on board as an account administrator. She now manages accounts receivable and payable, renewals and some human resources functions, a position that lets her use her skills from her previous career.
Retirement may no longer be the end goal it once was for a growing number of older workers. Canadians' average retirement age in 2021 was 64.4 years old, according to Statistics Canada; in 2020, it was 64.5 years — the highest it had been since 1986.
Yet a significant portion of retirees still boomerang back into the workplace: among those who left a long-term job in their early 60s, 47 per cent of men and 41 per cent of women became re-employed in the next 10 years, according to a Statistics Canada report in 2014 (more recent data isn't available).
You don't think (about returning to work) the day after you retire, but three months down the road, it becomes a very big thing in your mind
"You don't think (about returning to work) the day after you retire, but three months down the road, it becomes a very big thing in your mind," Breau said.
Bill VanGorder, chief operating officer and chief policy officer at the Canadian Association for Retired Persons (CARP), an advocacy group for older people, said numerous factors are driving this back-to-work trend, with financial security concerns chief among them.
More than six in 10 Canadians (62 per cent) aged 55 and older said they delayed or planned to delay their retirement because they don't have enough savings and investments to fund it, according to a June 16 survey by Angus Reid for Bromwich+Smith Inc. and Advisorsavvy Inc., and 54 per cent said they were doing so due to rapidly rising inflation.
"People are living longer and … there's a real worry among older Canadians that they will outlive their money," VanGorder said, noting that people used to live roughly 10 years after retiring at age 65, so they had less to plan for than today's seniors, who can expect to live into their 80s or 90s.
Most older Canadians, he added, don't have defined-benefit pension plans, or corporate pensions indexed to inflation, to rely on.
There's a real worry among older Canadians that they will outlive their money BILL VANGORDER
But many Canadian seniors also want to continue working to have a purpose, VanGorder said. CARP's work on this has indicated older workers want to continue using the skills and expertise they built up during their working years, or explore other interests and passions they didn't have the opportunity for in their career.
"People don't feel they're at the end of their useful life at 65, and they're not," he said. "They want to continue to contribute, to work, to be involved."
It's something VanGorder relates to. Since retiring roughly 20 years ago from his position as chief executive of the Lung Association of Nova Scotia, Halifax-based VanGorder has held four full-time jobs that allowed him to pursue interests he wasn't able to explore while he was working.
"At the same time, I also realized I had a lot to offer people in terms of my experience," he said.
People don't feel they're at the end of their useful life at 65 BILL VANGORDER
Lori Cranson, retired from her position as the associate dean for community services and health sciences at Toronto's George Brown College in 2020, is also using retirement to pursue a long-held passion.
Now the founder of Pret-a-Porter Jewels in Toronto, she had been making and selling jewelry part time before her retirement, and planned to turn it into a full-time profession once she left George Brown.
The pandemic changed her plans to sell wholesale to stores and show her collection at shows; instead, she built an online store, which she said has given her the opportunity to learn new skills, from site building to newsletter marketing and customer segmentation.
She said she doesn't know if she'll fully retire.
"Working in retirement, when you're working for yourself on something you're passionate about, helps you stay young. It helps you change your brain more and be curious about things," said Cranson, noting she appreciates that she's continually learning. "I worry if I didn't have that, what I would occupy my time with?"
I worry if I didn't have that, what I would occupy my time with? LORI CRANSON
Helen Hirsch Spence, chief executive of Top Sixty Over Sixty, a consultant that helps businesses adapt to an aging workforce and offers workshops and coaching for individuals, said older Canadians may also stay in the workforce as a way to remain connected to their social networks.
Older workers are also, VanGorder noted, badly needed in the labour force as employers contend with an increasingly tight labour market. Statistics Canada in late May reported there was a record one million unfilled positions as of March.
"There are not enough people to fill positions," he said. "(Older Canadians) want to work; they've got more openness and availability."
But stereotypes persist about older people's mental capacity or technological savvy, said Hirsch Spence, who founded Top Sixty after retiring from her position as a headmistress at a girls' school and experiencing gendered ageism.
"Our lifespans have increased dramatically, we're infinitely healthier, better educated and more tech savvy," she said.
The federal and provincial governments have been working to get employers to see the value of older employees.
A report authored by the Federal/Provincial/Territorial Ministers Responsible for Seniors Forum said older workers tend to stick with employers for longer periods than younger employees, reducing hiring and training costs. They also generally have a strong work ethic, perform well in group settings, need less supervision and have reserves of knowledge and experience.
Breau has experienced older worker stereotypes firsthand. Before being hired at Off2Class, she said she had job interviews with other companies where it was clear that "me being more mature didn't sit well with them."
In contrast, when she asked Off2Class's co-founders about her age and experience directly, she said they told her that was exactly what they were looking for. They also helped train her on Google Workspace, though she noted she's worked with plenty of computer programs over her working life.
Breau said she doesn't see a traditional retirement in her cards.
"I've worked all my life since I was young," she said. "I can't imagine retiring."
Source: Financial Post