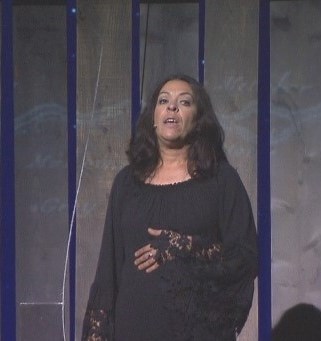 Jazz Fest cancels, apologizes to those 'hurt' by SLĀV after widespread criticism
Show featuring African-American slave songs accused of cultural appropriation
Betty Bonifassi is the lead singer of SLĀV, a Robert Lepage production that was featured at the Montreal Jazz Festival based on slave songs. (Radio-Canada)
Montreal's International Jazz Festival has cancelled all the remaining performances of SLĀV in response to critics who have accused the show of cultural appropriation.
In a statement made public Wednesday, the festival apologized to those who were "hurt" by the show.
"Since the beginning of SLĀV performances, the festival team has been shaken and deeply touched by all the testimonials we have received," the festival said.
It said the decision to cancel SLĀV's remaining performances at the festival was made with the show's lead singer, Betty Bonifassi. Nine more shows were scheduled between today and July 14.
"We would like to apologize to the people who were hurt and obviously that was not our intention at all," the festival said.
Mixed feelings over cancellation
Aly Ndiaye, a Quebec City hip-hop artist and historian who is better known as Webster, spoke out against SLĀV's "blatant lack of sensitivity" in an opinion piece last week.
He said Wednesday that he hopes Quebec has learned something from the whole experience.
"To have white people play black slaves, in that context, that was the problem. Some people realized it, some not. But [if] maybe some people learned from it — then it's a gain,' he told CBC News.
Sylvain Cormier, the senior music critic at Le Devoir, said he appreciated the debate the show sparked, but wished it hadn't been cancelled.
"I loved this piece, SLĀV, because it actually made me want to do something," he said.
He said the show made him question if he was doing enough, and speaking out enough, about "oppressed people in the world."
He said the fact that the some of the actresses playing black slaves were white didn't bother him.
Le Devoir music critic Sylvain Cormier said he wished the show hadn't been cancelled. (CBC)
Telling stories from outside one's own culture isn't inherently wrong, said Webster, but artists need to get people from those communities involved in the creative process.
"Not, 'Oh, we take the story and bring it to the whole world, but you don't have a say in it.'"
He had been a consultant on the show, but resigned after seeing the lack of diversity on stage in a preview last April.
He said slavery and genocide are two clear examples of topics that should be handled with extra sensitivity.
"You have some histories that still hurt people. You have some histories where you need to be careful [with] the way you talk about it," he said.
Aly Ndiaye, a Quebec City hip-hop artist and historian, acted as a paid consultant on the history of slavery for the producers of SLĀV but resigned after viewing an early version of the piece. (CBC)
Cormier disagreed, saying that consulting other groups hinders creative expression.
"If you start consulting, well then you [start to say], 'Should I do this? Should I do that? Oh, we should do [it] that way because it's going to do that.' You can't go that way when you create," he said.
For Webster, however, Quebec's cultural landscape necessitates such consideration because minorities are still underrepresented in media and the arts.
"Often here, majorities speak and it's like it's the sole mindset," he said.
"This would have been an opportunity to have more black artists step on stage."
Tickets to be refunded
The show's venue, the Théâtre du Nouveau Monde (TNM) on Ste-Catherine Street, said it will refund all tickets purchased for the show.
In a statement released Wednesday afternoon, the theatre said it has collaborated with the Jazz Festival for a long time, and it did not hesitate to offer "its stage to creators."
"Throughout its history, the TNM has given full freedom of expression to creators, because a theatre is at the forefront of all expression, and the debates that ensue," it said.
Protests were staged last week against the show, with dozens of people gathering outside the venue.​
Protesters gathered last week in front of the theatre where the Jazz Festival show featuring slave music was held. (Hugo Côté/Radio-Canada)
Lucas Charlie Rose, a Montreal-based musician who organized protests against the show, called its cancellation a relief.
"To be quite honest, when I organized the protests, it came out of desperation because I saw that the show was going on and there was not really a big discussion happening around it," he told CBC News Wednesday.
He said he hoped the situation would spark a conversation in Montreal about cultural appropriation.
The issue is much bigger than this one show, Rose said, and "we don't want the conversation to end today."
Criticism widespread
A local collective of Montreal-area artists, musicians, academics and community organizers collected more than 1,500 online signatures against the show.
"We are alarmed by the dismissal and silencing of Black voices in the creation, development, staging, and promotion of the show SLĀV," the petition states.
"These songs were born out of the needs of African-descended peoples while in bondage."
Earlier this month, Bonifassi and the show's director, Robert Lepage, defended the show, while also acknowledging that the history of slavery belongs "first and foremost" to the victims and their descendants.
"But this history was written by the oppressors as much as by the oppressed, by whites as well as by blacks," they wrote in a joint statement. "And it's necessary to continue the dialogue about this difficult period, first to bear witness, but also to avoid repeating it in the future."
A spokesperson for Lepage's production company, Ex Machina, told Radio-Canada Wednesday the company understood the festival's decision, but would not comment further.
Source: CBC News
POPULAR NOW
12058 reading now

MORE HUMAN REMAINS FOUND AT SITE WHERE ALLEGED SERIAL KILLER BRUCE MCARTHUR WORKED

21778 reading now

ONLINE ADVENTURER KILLED IN SHANNON FALLS TRAGEDY LIVED A LIFE ON THE EDGE

31069 reading now

DEATH TOLL JUMPS TO 33 AS HEAT WAVE CONTINUES TO BAKE SOUTHERN QUEBEC

4912 reading now

RESCUERS OF YOUTH SOCCER TEAM RACE TO DRAIN WATER INSIDE FLOODED THAI CAVE BEFORE RAINS RETURN

5780 reading now

LONDON MAYOR OKS 'TRUMP BABY' BLIMP FLYING OVER PARLIAMENT DURING U.S. PRESIDENT'S VISIT
DISCOVER MORE FROM CBC
Thai cave rescue: With more rain coming, diving through dark & dangerous waters might be only way out
More human remains found at site where alleged serial killer Bruce McArthur worked
Stephen Harper criticized for speaking at 'Free Iran' event hosted by dissident group
Scarlett Johansson faces new backlash over upcoming trans role in 'Rub & Tug'
Eugenie Bouchard ousted at Wimbledon
Quiz: How well do you know nutrition?
World Cup QF: Both Brazil, Belgium battling bad vibes
Pan Pylas
Sports

–
Soccer

–
World Cup
|
Why I'm sending my child to forest school & not kindergarten