Christina Porter, Green Party: Mississauga-Malton
Christina Porter is running for parliament because she wants to reframe the climate debate. Canada does not have to choose between economic disaster and climate disaster; we have the opportunity to avoid both and prosper in a new, sustainable world economy. After the publication of so many disturbing reports on climate change, Christina felt the need to get involved and help steer our country in the right direction.

Christina and her two sisters were raised in Mississauga by a single mother, a proud Jamaican immigrant. Christina earned her high school diploma and a black belt down in Port Credit, before graduating in 2011 from Ted Rogers School of Management at Ryerson University. Today, she is working as a business analyst and team leader at a thriving software company. She still enjoys the martial arts, as well as rock climbing and snowboarding in her spare time.
Christina believes that improving our education system is vital for Canada's future. An investment in our education is an investment in ourselves. Our country would benefit massively from increased science literacy, widespread familiarity with civics, and a deeper and more nuanced view of the past. Canadians need to know how our country and the world works in order to protect what matters. We also need to learn more about our country's history, particularly regarding indigenous peoples, in order to move forward together.

Christina believes the government should be held accountable for its actions, and that transparency is essential for a functioning democracy. The government should do what it promises to do and empower the public to verify. She believes that Canadians deserve a proportional representation system, so that every voice is heard in the political debate. The first past the post system must go.
************************************************************************
Annamie Paul, Green Party: Toronto Centre
Start writing or type / to choose a block
Annamie is a social entrepreneur and public policy advocate dedicated to advancing a sustainable and inclusive future for Canadians. She is the founder and former Executive Director of the Canadian Centre for Political Leadership (CCPL), a non-profit that advocated for and trained women, LGBTQ+, Indigenous and racialised peoples to run for elected office and public leadership positions and is proud that CCPL trainees are now serving their communities in elected roles. She also co-founded and co-directed the Barcelona International Public Policy Hub (BIPP HUB), an innovation hub that supports international NGOs working on global challenges.
Annamie has more than 15 years of experience in international affairs and external relations, including as the Brussels/EU Director for Crisis Action, a leading conflict prevention NGO; an Advisor in the Office of the Prosecutor at the International Criminal Court; and as a Political Officer in Canada's Mission to the European Union where she was responsible for the human rights, development, and conflict prevention portfolios. Paragraph
Annamie serves on the Board and advises a number of non-governmental organisations, including Climate Infrastructure Partnership (CLIP), Higher Education Alliance for Refugees (HEAR), Institute for Integrated Transitions (IFIT) and Operation Black Vote Canada (OBVC). She has been a member of the Steering Committee for Equal Voice Canada and has published articles, policy papers and opinion pieces on social inclusion and representation in Canadian politics.

Annamie is an inaugural Action Canada Fellow, an Echoing Green Fellow for social entrepreneurship alumni and a recipient of the Black Business and Professional Association Harry Jerome Award. She is a Barrister and Solicitor (Law Society of Ontario) and holds a Master of Public Affairs from Princeton University and a Bachelor of Laws from the University of Ottawa. Born and raised in Toronto, she speaks English, French, Catalan and Spanish. Paragraph
Annamie Paul https://www.linkedin.com/in/annamie-paul-toronto/
************************************************************************
Grad Murray, Green Party: Edmonton Centre
Start writing or type / to choose a block
Grad Murray was born to Jamaican immigrants and was raised in Toronto, Ontario. Grad puts a unique and inquisitive spin on politics, utilizing the critical thinking skills he gained as a political science student at York University, where he was deeply involved with local community and social issues.
At York, Grad focused on public policy and how it impacts everyday citizens. He has a keen eye and critical mind for evidence based, factual policy. He is especially proud of his work as an advocate to end the prohibition of cannabis and the unjust treatment of casual consumers under previous legislation.
Grad was initially attracted to the Green Party of Ontario (GPO) and their idea of doing politics differently and standing up for what you believe in. In the 2018 provincial elections, Grad was the GPO candidate for York South-Weston, and was proud to be part of the effort that helped elect Mike Schreiner as Ontario's first Green MPP. He is excited to now get involved with the federal party, and continue to build momentum and support for environmentally conscious politics across the country.Paragraph
Residing in cities such as Toronto, Montreal and now Edmonton, has further reinforced in Grad the idea that bringing Canadians together is critical to building a better future. He believes we should be working together with one another and not against each other. He believes in cross-country and cross-party collaboration to improve the way our country functions both in the short term, and for generations to come.
His vision of Canada is one shared community containing many unique and exciting individuals that work together with shared purpose and harmony. This purpose builds forward-thinking and dynamic communities, helps engage more voices in the political process, and brings back the fundamentals of good government.
************************************************************************
Jency Mercier, Green Party: LaSalle-Émard-Verdun
Jency Mercier is an environmentalist and activist who has been involved with a wide-range of initiatives from urban pollination projects to political campaigns. A graduate of Université de Montréal, she studied political science and multi-ethnic intervention.
Jency first ran for public office in the 2013 municipal election in Verdun on a platform of accountability and good governance. Inspired by this first experience, and wanting to build on her passion for environmental conservation and equity, she then ran for the Green Party of Canada in 2015.
Jency is running again in 2019 because she cares deeply about reversing climate change and ensuring all people have access to quality social services. She supports the Green Party because they not only have the most comprehensive environmental plan, but they have a serious plan to invest in the public programs that allow people to live bright and fulfilling lives.
Jency is ready to put in the hard work required to build a green and prosperous future for Québec and Canada.
****************************************************************
Sean Manners, Green Party: Beaches-East York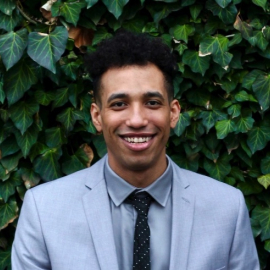 Sean Manners was born and raised in Toronto, Ontario, to parents of European and Caribbean descent. He has studied political science and environmental ethics at the University of Toronto, and is a graduate student in environmental policy at Memorial University. He has called the Beaches—East York riding home for 22 years.
Sean has been an active research assistant with the Environmental Policy Institute at Memorial University for the last four years. In this role, Sean has been involved with various tasks ranging from coordinating conferences to contributing to government research projects related to climate change.
Coming from a multicultural background, fostering a sense of community in the places he lives is of integral importance to Sean. This is demonstrated by his commitment to social justice and activism in human rights and the environment. He has been an advocate for, and member of, several grassroots environmental action organizations. Through these experiences, he came to realize the critical role that environmental policy can play in addressing and causing social injustice. This contributed to his decision to run for the Green Party of Canada.
Sean has been an active member of the Green Party of Canada since 2013. During his time, he was President of the University of Toronto Green Party and CEO and President of the Green Party's Beaches—East York Riding Association. He has also served as a campaign manager and volunteer on various campaigns throughout the province.
Sean believes that taking action on climate change should be a top priority for the federal government. He is also committed to decreasing student debt and eliminating university and college tuition fees. The Green Party of Canada's commitment to good government and restoring our democracy through proportional representation solidified his resolve to run for the Green Party in 2019.
******************************************************************
Hannah Conover-Arthurs, Green Party: Davenport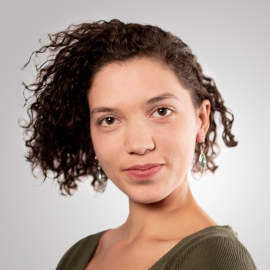 Hannah Conover-Arthurs is a passionate and forward-thinking environmentalist born and raised in Toronto's east-end. The daughter of a Jamaican immigrant father and a city-born visual artist mother, she was immersed in arts and culture from a very young age.
With lifelong participation in both visual and performing arts, she is a strong supporter of continued and expanded funding for Canada's Council for the Arts. Hannah believes in the arts as a means to unite communities and to encourage the kind of creative, innovative thinking we need to find solutions to our country's toughest problems.
Hannah has lived, worked and volunteered in the Davenport riding for over five years. She is a George Brown College Graduate with a passion for cooking and food security, and has gone on to dedicate her life to improving the wellbeing of people and the planet through our food systems. She has also been a member of an organic farm co-op in the city for half a decade.
Hannah is a strong advocate for access to local organic food for low-income households. In addition to food security, she is deeply interested in providing realistic solutions for low-income and immigrant families to obtain affordable housing, gainful employment and a clear path to citizenship.
Ultimately, Hannah wants to help build policies that will protect the land, air and water that make up our beautiful country and to ensure that Canada is invested in the future of its people regardless of status, age or race.
******************************************************************
Raheem Aman, Green Party: Stormont-Dundas-South Glengarry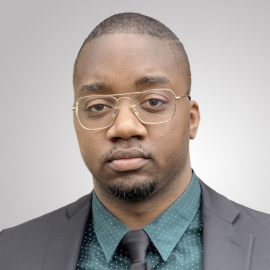 Raheem Aman is a passionate community leader and environmental activist. He holds a Bachelor's of Justice, Political Philosophy and Law from McMaster University, and hopes to pursue a career in law enforcement.
A proud Black Canadian, Raheem was born in Mississauga, raised in Brampton and educated in Hamilton. His family are immigrants from Barbados and Jamaica, and Raheem is actually the cousin of the first Prime Minister of Barbados, Errol Barrow. This family legacy has instilled in Raheem a commitment to the principles of inclusion and diversity that are embedded in our Charter of Rights and Freedoms.
Currently, Raheem works as a personal trainer and is committed to helping clients pursue a life of health, wellness and fitness. This merges with his commitment to sustainability and a vegetarian lifestyle. Raheem is dedicated to public service, and if he is not successful in his pursuit of public office, hopes to serve with the Canadian Armed Forces or the Cornwall Police Department in the near future.
Raheem was motivated to get involved in politics by environmental advocates including Elizabeth May and Mike Schreiner. He ran in his first federal election at the tender age of twenty-two, representing the Green Party in the riding of Hamilton Mountain in 2015, while pursuing his undergraduate degree at McMaster. Raheem is particularly inspired by the six core values of global greens: ecological wisdom, non-violence, social justice, sustainability, participatory democracy, and respect for diversity.
Raheem hopes to build off his past political experience and commitment to global green values to run a campaign that inspires the residents of Stormont—Dundas—South Glengarry.
****************************************************************
Payton Ashe, Green Party: Bourassa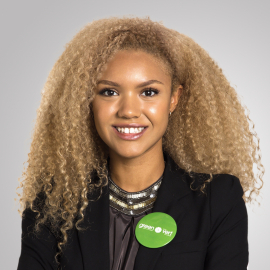 Payton Ashe is a Nova Scotian descendent of Black Loyalists; her rich roots trace back 250 years into Canadian history, and inform all aspects of her work. She is a university student studying political science and minoring in environmental sustainability, and has won several academic awards throughout her career. Payton is also a professional model and server. She is an activist who has successfully campaigned for changes in her high school's policies, organized a free drop-in counselling clinic for youth affected by gun violence, and is currently the President of the Concordia Young Greens.

Payton's love for the environment and politics comes from her rural beginnings, her passion for intersectional social justice, and her unique experience as a female minority. She has been volunteering with The Green Party for two years and has worked closely alongside the Executive Director of the Quebec wing. She is a firm believer that the alleviation of climate change will come from government action, but also from the empowerment of disenfranchised persons who do not currently have the resources to be a part of a sustainable transition. Her life's work is dedicated to changing this reality.

Payton has worked on the black rights group North-End Community Action Committee where she has advised leaders including senators, ministers, and city councillors. At the age of 15, she moved out, worked two jobs while attending high-school, and garnered six university credits before graduating with honours. Before obtaining her diploma, Payton campaigned for changes to her high school's dress code, which resulted in her recommendations being implemented.

She believes that now is a transformative time for groups historically underrepresented in politics to become engaged and have their voices heard. Payton's determination, perseverance, and advocacy will help her achieve her goals of implementing environmental constitutionalism, lower university tuition, and foster a free sustainable transition for workers whose jobs are at risk due to automation and climate change.