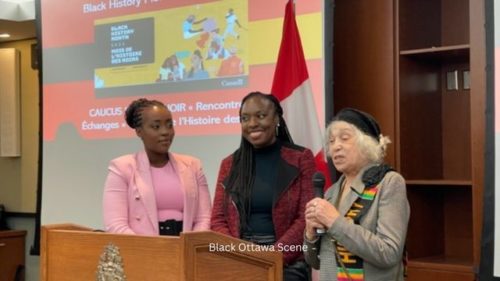 Black Liberal Caucus Event – Wednesday February 8, 2023
by Ruth Aman
On February 8th, select members of the public were invited to Parliament Hill for the Liberal Black Caucus' Black History Month event. Starting early in the afternoon, a group of 30 guests were invited to spend a day living the life of government officials.
The Liberal Black Caucus is a committee of Black Canadian ministers and members of parliament who have aligned together specifically for the purposes of advocating for Black Canadians throughout the nation. Through a number of initiatives and programs, this committee has achieved success in providing funding for Black corporations and business and community support for families and individuals.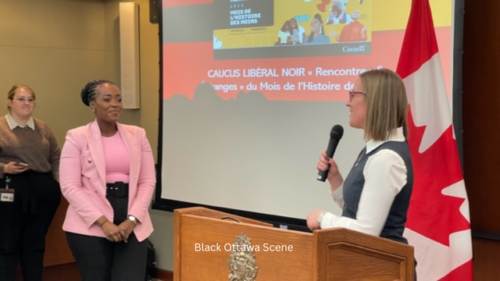 Question Period at the West Block Building was the first event of the day. Guests were invited to the gallery, which is a seated area above the House of Commons, in which one could easily view all members of Parliament and listen in on the discussions of the House. Question Period is known as a daily period in which parliamentary members propose questions and comments to government ministers. With the Liberal Party on one side of the room and the Conservative and minority parties on the other, guests were invited to listen in on a heated debate.
Before it began, a moment of silence was held to remember the lives lost and those injured in the Quebec daycare bus crash which had occurred earlier in the day.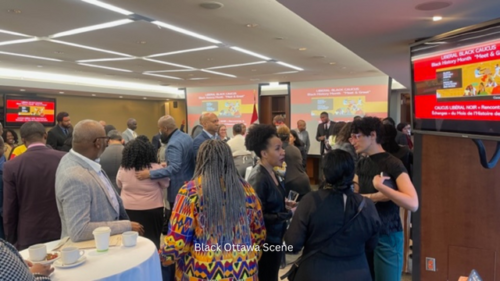 Members of opposing parties challenged Prime Minister Justin Trudeau on a number of issues from the current inflation crisis to family childcare. Leader of the Conservative party Pierre Polivierre exclaimed how necessary it was for Hon. Trudeau to step aside and let the Conservative party fix the systems that are broken within the government and these sentiments were repeated by many other government members.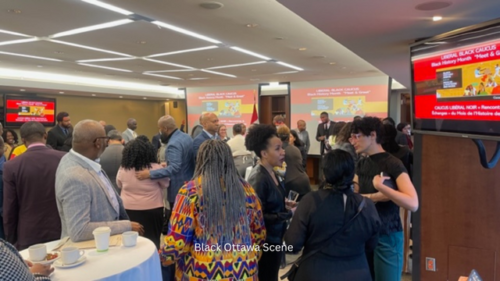 Hon Kayabaga had a moment to reflect on Black History Month and remember the legacies of those who have gone before. She stated, 'there is no exhaustion where there is much to be hoped for, much to work towards and where the dreams of ancestors have yet to be realized.' Her talk also spoke to the future impact and possibilities available to Black Canadians. As she concluded she received a standing ovation from the entire House.
In attendance aside from the Canadian government members were also representatives from the Ethiopian government who had been in Ottawa to meet with Canadian delegates. These guests included the Ethiopian Ambassador to Canada and the Speaker of the House Tagesse Chafo.
After the Question Period guests were then invited to a Meet & Greet with members of Parliament. Minister of Crown-Indigenous Relations Marc Miller, Minister of Families, Children and Social Development Karina Gould and MP Kayabaga were in attendance as well.
When looking through the group, one would see a group of very established, educated and hopeful Black Canadians. Individuals had come from Calgary, Toronto, Quebec City and the like to network and create relationships with each other in hopes of furthering the successes of all Black Canadians.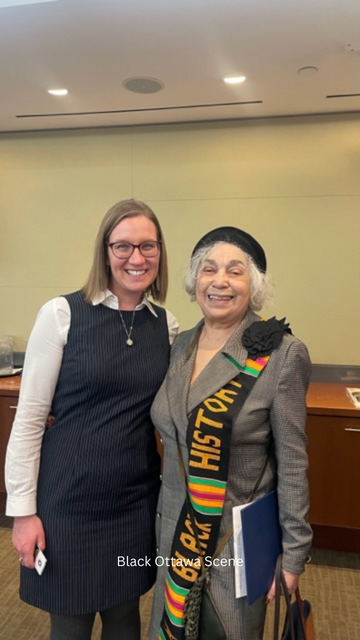 After the networking portion, MP Kayabaga gave her welcoming remarks. She first thanked everyone for making the program and gave a great shoutout to the Liberal Research Bureau which did all the logistics for the day's program. She then shifted the discussion to the 2023 Black History Month theme which is 'Ours to tell'. To her, this theme represents the uplifting of narratives that are usually in the background. It is about the backbones, villages, and homes that have pushed everyone else up to the greatness they are in now. She also mentioned how important it is to partner with allies as they echo the voices of Black Canadians. While conclduing, she mentioend that the remainder of the Liberal Black Caucaus was sending their warmest regards as they were not able to make it for this event.
Minister Karina Gould was then invited to the podium to speak. She spoke about the Black Endowement Fund announcement made earlier in the day and called it, 'A real catalyst in Canada for Black Excellence and supporting Black Canadians.' Another thing mentioned was the Supporting Black Canadian Communities Initiative(SBCCI) and it's immense contribution to the strengthening of Black-led non-profit organizations. The SBCCI has invested 175 million dollars, in the last 5 years, to support Black communities. About 1300 Black-led organizations have received funding though it and 4 Black-led consortiums have been supported through it as well. In her concluding remarks she expressed that this was just the beginning and that more is still to be done.
Member of Provincial Parliament Mitzie Hunter & Black History Ottawa's June Girvan were also invited to give remarks on this year being the 190th anniversary of the abolition of slavery in Canada due to the resistance of Chloe Cooley. They spoke on the story of Chloe Cooley and told guests to look forward as events were being prepared to commemorate this great moment in history. Not only is this Black History, but it is also Canadian History and it must be recognized as such. After this the event concluded and guests and ministers mingled while being served refreshments.
******************************************************************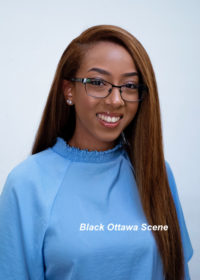 Ruth Aman is a Project Officer with Black History Ottawa. She holds a Bachelor of Global and International Studies (Honors) degree, with a specialization in Law and Social Justice from Carleton University.